Former Olympic skating champs push for glory in 2022
As Beijing celebrates the two-year anniversary of its successful bid for the 2022 Winter Olympics, China's most-decorated winter Olympian couple is embracing a new role in promoting winter sports.
Shen Xue, a former Olympic champion figure skater, was recently named deputy secretary of the Beijing Municipal Committee of the Communist Youth League of China to lead the mass youth organization's work in supporting preparations for Beijing 2022, according to multiple Chinese media reports.
Shen's husband, Zhao Hongbo, her gold-winning partner in pairs skating at the 2010 Vancouver Winter Olympics, confirmed the appointment on Monday, expressing confidence in his wife to deliver in the high-profile post.
"She is so experienced in the game - not only in the athletic aspect but in the preparation and operation of big events - after competing with me at four Olympics," Zhao said after a winter sports promotion event on Monday. He retired with Shen after Vancouver.
"It will be a tall order for her to be in such a high position, but she has gained the expertise in organization, consultancy and staff training after serving as a staff member at the 2015 World Figure Skating Championships in Shanghai, so I believe she is competent for the new job," he said.
Shen and Zhao won three titles at the biennial World Championships between 2002 and 2007, and two Olympic bronze medals at the 2002 Salt Lake City and 2006 Turin Games.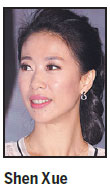 Monday marked the two-year anniversary of Beijing's winning the right to host the Olympic and Paralympic Winter Games in 2022 with co-host city Zhangjiakou, Hebei province. Beijing edged out its rival, Almaty, Kazakhstan, in July 2015.
The event Zhao attended was among a series of celebrations for the anniversary.
An in-depth report entitled China's Ice and Snow Dream, compiled by the National Winter Sports Administrative Center and featuring stories of the country's winter sports stars present and past, was released to give members of the public insights into the game's development in China.
A junior skiing contest at Beijing's newly built dry ski slope, paved with slippery artificial surfaces, and a Winter Olympic-themed public lecture, were also held.
After turning China into a world power in figure skating with his wife during their prime, Zhao officially picked up the baton of ex-mentor Yao Bin as the head coach of the national figure skating team in late June after coaching the pairs squad for four years since 2013.
Under his guidance, young pair Han Cong and Sui Wenjing claimed their first World Championships gold medal in Finland in March, ending the seven-year world title drought in the pairs category since Pang Qing and Tong Jian won in 2010.
"We are embracing a golden era for winter sports to blossom in China, leading up to the 2022 Olympics with government and public interest both rising to new heights. Hopefully, Shen and I can contribute in our respective positions and leave a legacy for the sport after we retire from our current jobs," Zhao said.
sunxiaochen@chinadaily.com.cn
(China Daily 08/01/2017 page4)