Curry finally earning what he's worth
Golden State dynamo signs off on 5-year deal worth $201 million
OAKLAND, California - Stephen Curry has already delivered more than his share of success to a franchise that desperately needed it.
Now, he's being paid for all he has done - and certainly will do.
Curry finalized his new contract on Tuesday, signing a five-year deal with the champion Golden State Warriors that will pay him $201 million.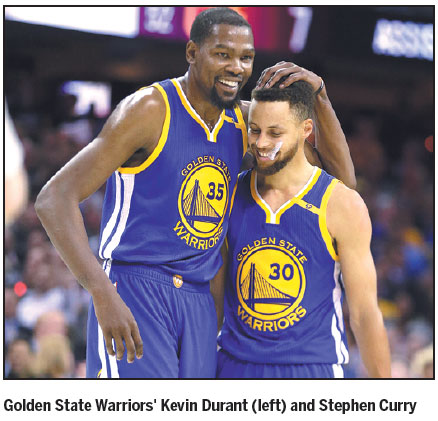 It is NBA's second-richest contract, behind the $228 million extension James Harden signed with the Houston Rockets two weeks ago.
Considered overlooked and undersized when he arrived on the NBA scene after being drafted seventh overall out of Davidson College in 2009, Curry has silenced the doubters with every heave from halfcourt.
The two-time league MVP, who earned $12 million last season as one of the league's biggest bargains, averaged 28.1 points in the playoffs while also contributing 6.7 assists and 6.2 rebounds. Now, he will earn $40 million per season.
"I'm just happy to be a leader on this team that can understand the goals that we set out for ourselves and try to get it done the best way we could," Curry said after the Game 5 title-clincher in the NBA Finals last month.
Finals MVP Kevin Durant also signed his new contract - worth approximately $53 million over the next two years - as Golden State announced its deals with returning free agents.
Sure, Durant's spectacular postseason may have shone brighter as he hoisted his MVP hardware, but Curry did so much on the way to his second title in three years. From his dazzling dribbling, shot-making and the way he dishes off, Curry has been brilliant - but what he does for the Warriors as an ambassador in the community is as much a part of what makes him special as anything else.
He is the face of a franchise that has become the standard by which every other organization is measured.
When coach Steve Kerr was asked in early April about how Curry had taken on more of the load with Durant nursing a left knee injury, the 2016 NBA coach of the year touched on his point guard's unfailing ability to guide Golden State.
"I don't think he's been any different with KD out in terms of his leadership. He's still just Steph," Kerr said.
"He's humble and cocky at the same time, which is why we like him. He's a very humble, modest human being, which the guys respect. And he's an arrogant basketball player, which is what you need to be a superstar.
"He believes in himself and he goes out there looking to light it up every night. You take him off the floor you won't find a kinder, gentler human being."
Curry is getting paid for all those things after helping turn the franchise from a longtime laughing stock into a regular championship contender.
Now, he wants to build a dynasty with KD by his side. Durant accepted less money for the coming season so the Warriors' core could remain intact.
From spending an off-day at an inner-city elementary school to donating three bed nets for every 3-pointer he makes to fight malaria through 'Nothing But Nets', Curry is as comfortable hanging with kids as he is intensely dueling Durant in 3-point shootouts on the practice floor or driving past LeBron James to score on the NBA's biggest stage.
Curry never worried about his own production, the scrutiny of his diminished points or shooting percentages playing alongside fellow superstar Durant.
A year after breaking his own NBA record with 402 3-pointers, Curry rarely finished quarters with those jaw-dropping 3s that were so memorable from the previous campaign - and that was fine, because Golden State kept winning. The Warriors were sharing the ball in Kerr's deep rotation, developing into a close-knit group with great chemistry despite all the new faces.
But it wasn't until the Warriors blew a 14-point lead in the fourth quarter of a demoralizing 109-108 loss at Cleveland on Christmas Day that Curry reached the realization he must do more.
"I learned a lot about myself," he said. "After that Christmas Day game I kind of understood that we have such high-IQ players that if I could be aggressive, do what I do and need to do every single night, everything will kind of flow from that.
"The proof is obviously in what we were able to accomplish from that point on in the regular season, being 16-1 in the playoffs, everybody being the best version of themselves and putting all the puzzle pieces together."
Associated Press
(China Daily 07/27/2017 page22)