Davis: Pelicans tired of losing
NEW ORLEANS - Anthony Davis says New Orleans Pelicans are "tired of losing" and have the roster to do something about it.
That is, if they can find a new offensive scheme that suits their mixture of incumbent starters and recent acquisitions.
"We can't wait for the season to come and try to make some noise here in the loaded West," said Pelicans power forward Davis on Tuesday while promoting a youth camp he'll host in early August.
"We're doing everything, whether it's signing players, trading players... whatever it is to just try to make sure that we try to be a winning organization.
"We have the tools right now to be successful. Right now, I think we look good on paper. So we've just got to figure it out."
The Pelicans will likely need the right scheme, good chemistry and good health to contend in the Western Conference, which features defending champion Golden State as well as Houston, Oklahoma City and San Antonio.
Davis is optimistic that could happen. He's been working out this offseason with fellow All-Star big man DeMarcus Cousins, and he fully endorsed the recent signing of veteran point guard Rajon Rondo.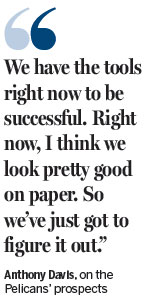 Davis said Rondo's savvy playmaking and defensive acumen will strengthen New Orleans on both ends while also allowing Jrue Holiday to become more of a scoring threat.
When the Pelicans re-signed Holiday to a five-year, $126 million contract to open free agency, general manager Dell Demps and coach Alvin Gentry mentioned the possibility of playing Holiday off the ball more, and the acquisition of Rondo should allow that, Davis said.
"When I first heard about Rondo, I thought it was a good situation for us," Davis said. "He knows when to get guys involved, when to make that pass."
Davis said Rondo and Holiday also will be a formidable defensive tandem along the perimeter, meaning the Pelicans' All-Star big men should have more chances to protect the rim and rebound. He said Rondo's long arms and big hands help him disrupt drives and passes as well as rebound.
"They're going to give a lot of guards, this year, problems," Davis said. "It's always good when you can add a guy who knows how to play defense."
By the time Davis hosts his clinic for kids on Aug 7-8 at the University of New Orleans, he'll have spent a considerable portion of the offseason working out with Cousins, who was acquired in a trade after last season's All-Star game.
Associated Press
(China Daily 07/27/2017 page22)