Li shoots his way to stardom
SOUTHPORT, England - Li Haotong crept into unexpected contention at the British Open with the round of his life on Sunday.
It didn't win him the claret jug, but it did earn him a place at the Masters.
The 21-year-old Chinese became the fourth player to shoot 63 in the final round of the British Open, after Jodie Mudd (Royal Birkdale in 1991), Payne Stewart (Royal St. George's in 1993) and Henrik Stenson (Royal Troon in 2016).
The 7-under round moved him to 6-under for the tournament and, after being just two shots off the lead at one stage, he finished in third place, six shots behind champion Jordan Spieth.
Ernie Els, Li's playing partner, had a front-row seat of a bogey-free round containing seven birdies - four coming in the final four holes - and just 25 putts.
"I could see he wasn't backing off," Els said. "You see some guys get a little bit scared, but he kept going. It was really special to see."
Li said he felt at home at Royal Birkdale because it was similar to the Lake Malaren course he plays in Shanghai.
"Unbelievable, actually," he said. "I can't explain. Glad to see I holed everything. I was quite happy out there."
Li won the Volvo China Open last year and gained more notoriety last month at the French Open, when he threw his putter into a lake in frustration after a bogey.
Minutes later, his mother waded into the muddy water to retrieve the club, slowly returned with it to dry land, only to throw it back into the water because it had been snapped in half by Li.
"Don't remind me, please," Li said, laughing.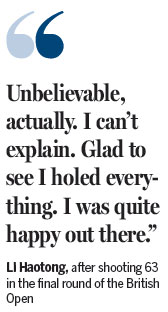 The 63 would have tied a record for a major championship if Branden Grace had not shot 62 on Saturday.
"Obviously Branden has the record. It's absolutely done and dusted. So what he did yesterday broke every record in the book," Els said. "But today's round, for what it is, is as good a round. It's not the same number, but it's the same quality golf."
Li shot 82-84 in the final two rounds at the US Open last month. He earned a place at Augusta National next year for unexpectedly finishing in the top four at Royal Birkdale.
Meanwhile, Spieth will go into the US PGA Championship next month looking to join an elite club and complete a career grand slam after his memorable triumph on Sunday.
Spieth's dramatic victory saw him add the famous claret jug to the Masters green jacket he won at Augusta in 2015 and his US Open title the same year.
The Texan has now emulated the great Jack Nicklaus by winning three different majors before the age of 24-his 24th birthday is on Thursday.
Nicklaus is one of just five players to have claimed all four majors, but Spieth can join that elite group by winning the PGA at Quail Hollow in North Carolina starting on Aug 10 - and would be the youngest to get there.
"It's incredible. It's a life goal of mine. It's a career goal. Growing up playing golf, I just wanted to be able to play in major championships and compete with the best in the world, and things have happened very quickly," Spieth said.
He survived a major wobble in the last round at Birkdale to finish 12-under and beat compatriot Matt Kuchar by three shots.
Spieth was already the fourth-youngest man to capture two majors with his 2015 double, having previously become the youngest winner on the PGA Tour in over 80 years at the John Deere Classic in 2013.
Adding to his achievements, Spieth warmed up for Birkdale with a victory at the Travelers Championship last month which allowed him to match Tiger Woods in reaching double digits for tour wins by such a young age.
Along with Nicklaus, the other players to have completed the career Grand Slam are Woods, Ben Hogan, Gary Player and Gene Sarazen.
But Spieth is not a fan of comparisons between him and the all-time greats of the sport.
"To be in that company, no doubt is absolutely incredible. And I certainly appreciate it ... but that kind of comparison is still a long way off. Still, we work really hard to have that, with that being the goal," said Spieth after becoming the youngest British Open champion since 22-year-old Seve Ballesteros won at Royal Lytham in 1979.
His victory, and the manner of it, drew praise from Nicklaus.
"He's won 11 tournaments and I had won eight before 24," Nicklaus, now 77, wrote on Twitter on Sunday.
"If you look at his victory total, his win today and the way he won, Jordan has shown an amazing display of maturity for someone so young, and he has been doing that for a quite a while.
"I think it's wonderful."
AP - AFP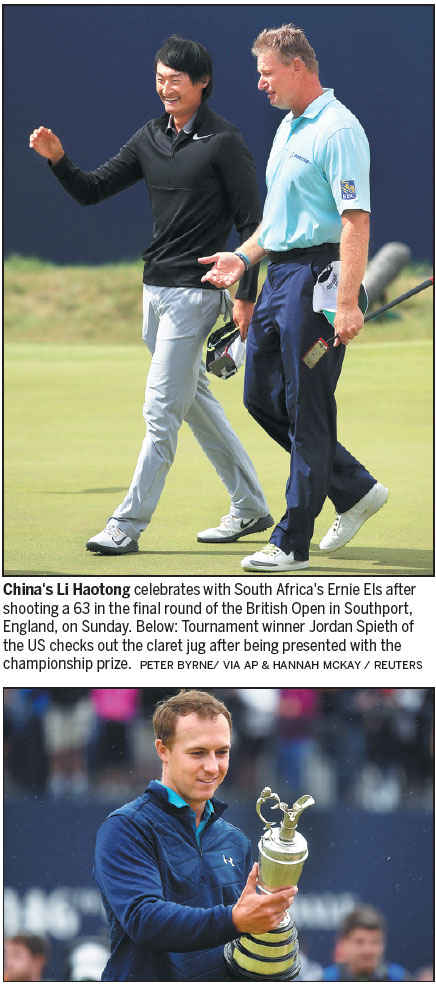 (China Daily 07/25/2017 page24)