IOC to pick Los Angeles, Paris for 2024 or 2028 Olympics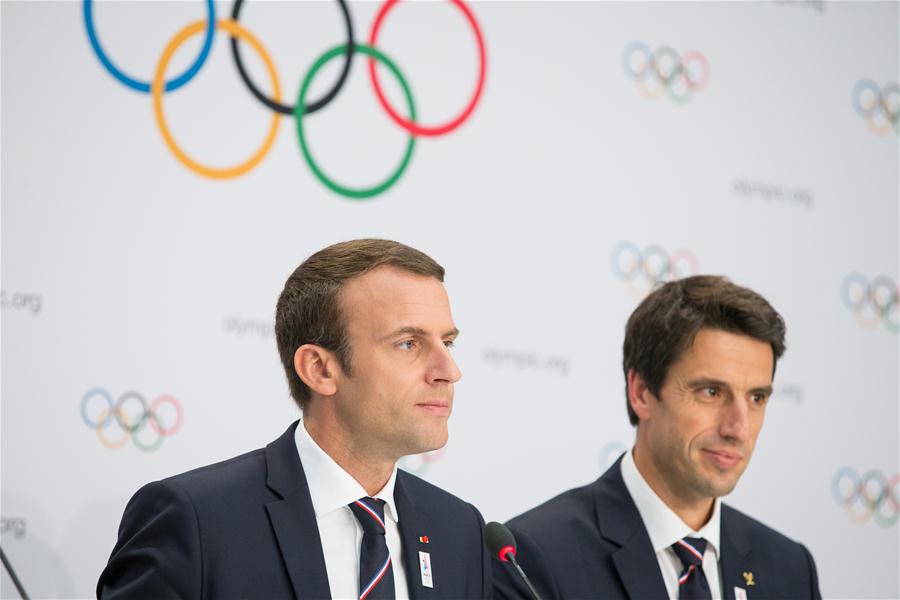 French President Emmanuel Macron (L) and Paris 2024 Olympic bid co-president Tony Estanguet hold a press conference after the presentation of the Paris 2024 Candidate City Briefing for International Olympic Committee (IOC) members at the SwissTech Convention Centre, in Lausanne, Switzerland, July 11, 2017. [Photo/Xinhua]
LAUSANNE, Switzerland — Finally, Los Angeles and Paris have their Olympic hosting destiny in their own hands.
If they can agree who goes first, each city will be awarded either the 2024 or 2028 Summer Games in September.
International Olympic Committee members voted unanimously on Tuesday to seek a consensus three-way deal between the two bid cities and the IOC executive board. Talks will open with Paris widely seen as the favorite for 2024.
If a deal falls through, only the 2024 hosting rights will be voted on when the IOC next meets, on Sept 13 in Lima, Peru.
However, an agreement seemed assured, judging by the reaction of the two mayors.
"I have full confidence that we will get there," LA Mayor Eric Garcetti said at a celebratory news conference for both candidates and IOC President Thomas Bach.
Garcetti and Anne Hidalgo, his friend and counterpart from Paris, had emerged on stage seconds after the vote, holding hands, to welcome the decision. They were joined by Bach, who raised an arm of each in a shared gesture of triumph.
The mood looked set to continue over dinner at the IOC's favored five-star hotel, the Lausanne Palace.
The Franco-American alliance continues later this week. US President Donald Trump is due in Paris to join President Emmanuel Macron for Bastille Day on Friday, the national holiday.
Macron was in the Olympic capital city Tuesday to promoting the Parisian cause — in a closed-door session with IOC members to explain how they would host the 2024 Olympics, and a subsequent news conference.
The presidential push was judged necessary by Paris, which has failed with three Olympic bids over the past 25 years.
"We lost three times, we don't want to lose a fourth one," Macron said at the news conference. "I'm here to convey the message that there's a strong unity to back this candidacy."Minutes after Macron spoke, Trump wrote on Twitter: "Working hard to get the Olympics for the United States (L.A.). Stay tuned!"