China wins Snooker World Cup after dramatic comeback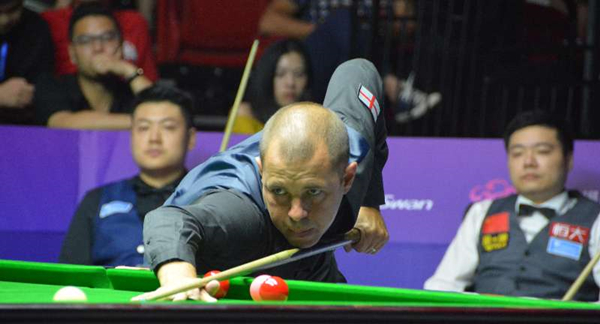 Ding Junhui and Liang Wenbo can only watch on as Barry Hawkins helps England go in front in the final of the 2017 Little Swan World Cup. [Photo/chinadaily.com.cn]
The crowd welcomed Ding with a huge roar as he emerged for his must-win fifth-frame battle with world number three Trump, and the Chinese star rose to the occasion.
When the Englishman handed him a presentable chance, he won the frame in one visit with a gutsy break of 69 to pull the match back to 2-3.
The drama reached a climax with a second doubles frame. Both teams were feeling the pressure at this stage, with missed pots, botched safety shots and conservative play dominating the action.
Liang and Hawkins both got among the balls but could only make a handful of points. Then a poor safety by Trump gave Ding a chance to win the frame with only the colors remaining, but the Chinese hotshot missed the brown.
Then, Hawkins missed the brown. And Liang did, too. Trump managed to sink it, but couldn't get on the blue. Ding went close with a double, then Liang almost potted the pink by mistake.
By this point, Trump and Liang were laughing at the absurdity of it all. Ding was massaging his eyes, apparently unable to watch any longer.
But finally a glaring Hawkins miss handed Liang his moment, and he potted the blue and pink to tie the match at 3-3.
So after three hours of action, the match came down to a deciding frame between the two players of the tournament: Ding and Trump.
Ding was not in the mood to share the limelight. As soon as Trump gave him a sniff of a red near the baulk cushion, the 30-year-old turned it into a potentially frame-winning opportunity.