Park picks up first win after playoff
WEIHAI, Shandong province - Park Bo-mi's putting prowess proved the difference on Sunday as the South Korean beat compatriot Lee Ji-hoo on the first hole of a playoff to win the Kumho Tire Ladies Open.
As Lee closed with a 69 to finish on a 6-under 210 total, Park, playing in the final group at Weihai Point, Shandong province, drained a 12-foot uphill putt on the last hole of regulation for a 70 to force the playoff.
In the extra session, Lee's approach found a bunker at the back of the 18th green while Park was safely on the green, her ball 20 feet to the right of the flag.
Lee then flew her bunker shot 25 feet past the hole down the sloping green and missed her putt for a bogey 5.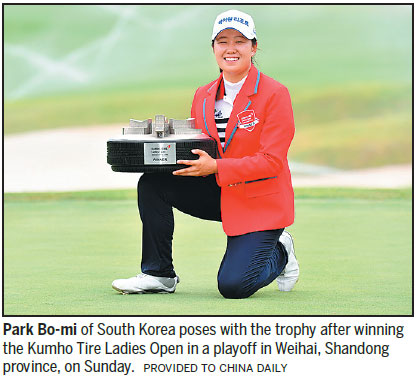 With a chance for birdie, Park was too aggressive as her ball rolled six feet past the hole.
However, she then made her par putt to earn 100 million Korean Won ($86,623) and two first-class round-trip air tickets with Asiana Airlines.
"I knew that I needed to force the playoff so I gave my 100-per-cent effort on that putt and I made it," said Park.
"In fact, I was very nervous because this is my first play-off. But I knew Lee since we were juniors. We played many times so that helped. Moreover, my father was my caddie and did a great job to calm me down," said the 23-year-old who turned pro in 2012.
"This is my first win. My next goal is a second win before the end of the season."
Lee could only express her disappointment after the 23-year-old blew her chance to win in regulation.
"I was very confident that I could win this entering today but this golf course is really tough," said Lee.
"I made a miscue in the pla-off, but I am grown up and will take this."
South Korea's Ahn Song-yi finished one stroke back in third after a final-round 69.
China's world No 6 Feng Shanshan, who led after 36 holes, closed with a 73 to finish tied-fourth, two shots back with Korean Lee Solar (71), a China LPGA Tour member.
With a one-shot lead going into the final round, Feng made a birdie three at the third hole to get to 6 under.
She then posted a bogey 5 two holes later to make the turn on the coastal course at even par. After a birdie four at the par-5 10th, Feng fell out of contention with three straight bogeys starting at the 13th hole before registering a birdie at the 16th to give her a little hope.
"I wanted to win this trophy coming into today, but didn't make it," said Feng.
"I struggled with my swing earlier this round and then some putts refused to sink later. But I did give my best effort with every shot.
The 27-year-old will play in this week's US Women's Open in New Jersey, the third major of the year.
"Don't worry, I will return to this tournament and attempt to win it next year," added Feng.
Lee Hyo-rin (69) sank a hole-in-one at the 125-yard 17th when the Korean found the cup with a pitching wedge. She earned a business-class return ticket on Asiana Airlines for her perfect shot.
Leading final-round scores (Players Chinese, unless stated)
* Park Bo-mi wins on first hole of playoff
210 Lee Ji-hoo (KOR) 69-72-69, Park Bo-mi (KOR)* 72-68-70
211 Ahn Song-yi (KOR) 71-71-69
212 Feng Shanshan 66-73-73, Lee Solar (KOR) 72-69-71
213 Park You-na (KOR) 76-64-73
214 Choi He-young (KOR) 75-67-72
217 Choi Yoo-lim (KOR) 69-71-77
218 Lee Hyo-rin (KOR) 77-72-69, Guo Caizhu 75-72-71, Kim Hye-sun (KOR) 71-75-72, Choi Eun-woo (KOR) 74-70-74, Park Seong-weon (KOR) 74-69-75, Jang Eun-soo (KOR) 70-73-75, Ko Na-hyun (KOR) 71-71-76, An Na-rin (KOR) 69-72-77
(China Daily 07/10/2017 page23)