Ramirez redemption as Angels ascend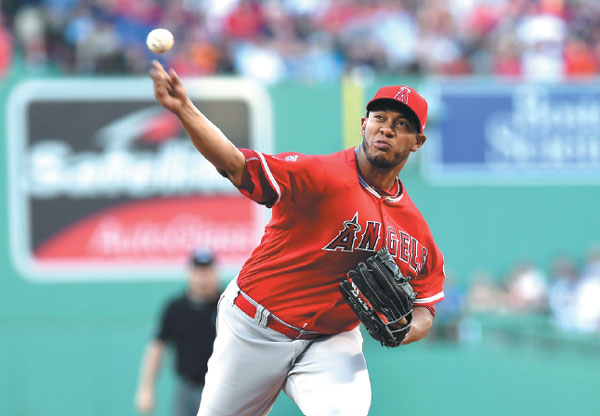 JC Ramirez, of the Los Angeles Angels, tosses a pitch during the first inning against the Boston Red Sox at Fenway Park on Saturday. Ramirez produced six solid innings as the Angels won 6-3. USA Today Sports
JC finally finds his groove to inspire Los Angeles to victory over Red Sox
BOSTON - JC Ramirez was solid when the Los Angeles Angels needed him.
Blake Parker's ending was needed even more.
Ramirez bounced back from his shortest career start with six solid innings, Cameron Maybin doubled home a run and scored another as the Angels held off the Boston Red Sox 6-3 on Saturday night.
The Angels were going for their fifth series win in their last six on Sunday.
Mitch Moreland hit a solo homer for the Red Sox, who lost for only the third time in their last 13 home games.
Ramirez (7-5) allowed one run and four hits with five strikeouts after lasting just three innings and giving up five runs in his previous start. He had posted an 8.53 ERA in his first four starts in June.
"I think that he stayed ahead of the count well tonight. He used his pitches and I thought he used his fastball well on both sides of the plate," Los Angeles manager Mike Scioscia said.
"That's a real strong outing for JC, and it was important to us."
Ramirez was delighted with his performance in his first start at Fenway Park.
"This one, especially playing in this park, gave me a lot of confidence," he said.
Parker struck out pinch-hitter Chris Young with the bases loaded for the final out for his first save of the season after Boston scored twice against Cam Bedrosian in the ninth.
David Price (2-2), who started the season on the disabled list with a strained left elbow, had a decent outing for the third time in six starts, allowing three runs two earned - with five strikeouts and a walk in six innings.
"Felt good. Just I didn't make enough big pitches when I needed to," he said.
Red Sox manager John Farrell was ejected by third-base umpire and crew chief Bill Miller after Fernando Abad was called for a balk, scoring a run that made it 5-1.
"Time was called. Time was clearly called before the balk was called," Farrell said. "So that was the dispute."
Farrell was tossed after Kole Calhoun, the batter, stepped out and home-plate ump Ryan Blakney appeared to raise his hands, signaling time.
The umpires met for a minute or so and allowed the run. Farrell then got into a heated argument with Miller and was given his first ejection of the season.
"We went back to John and told him the balk happened before time was called," Miller said. "John didn't accept that answer and he was quite adamant that time had been called first and therefore the balk should've been nullified." The Angels took advantage of shortstop Xander Bogaerts' throwing error for an unearned run and that put them ahead 2-1 in the fourth.
Danny Espinosa reached on the error, stole second and scored when Eric Young Jr. doubled inside the first-base bag.
Luis Valbuena's sacrifice fly made it 3-1. Maybin added his RBI double in the seventh.
Martin Maldonado's RBI single gave Los Angeles a 1-0 lead. Moreland homered into the first row of Green Monster seats in left center, a shot estimated at 429 feet.
Trainer's room
Angels: Scioscia said RHP Matt Shoemaker, on the 10-day disabled list with right forearm tightness, was examined and received "a clean bill of health and resumed throwing," but would "most likely not" make a start when his turn comes up on Friday. ... Scioscia also wants to use LHP Jose Alvarez less due to his recent workload.
Red Sox: INF Jeff Rutledge has been placed on the seven day concussion disabled list and Tzu-Wei Lin was promoted from Double-A Portland. Farrell said Rutledge pinpointed it to a play on Memorial Day and explained "(Friday) was the first day Rut mentioned something". ... LHP Eduardo Rodriguez, on the DL with a partial dislocation of his right knee, threw 68 pitches. The 24-year-old could be in line for a rehab outing with Portland on Thursday.
Sox in shorts
On a very muggy afternoon, many of the Red Sox regulars took batting practice in shorts - something seldom seen at home games.
Can't catch me
Maybin was successful for the 23rd time in 24 stolen-base attempts, swiping third after his double and before scoring on the balk.
Associated Press