Smash-hit Harrison powers Pirates past Cards
ST. LOUIS - When it comes to taking one for the team, the Pirates can count on Josh Harrison.
Harrison was hit by a pitch to drive in a run. He also homered and scored a run after hitting a double in a 7-3 Pittsburgh victory over the St. Louis Cardinals on Saturday night.
Jordy Mercer also homered and starter Gerrit Cole pitched six innings for Pittsburgh.
After getting hit by a pitch in the sixth, Harrison has been hit by a pitch five times in his last six games. He leads all major-league players with 16 hit by pitches this season.
Getting hit by a pitch is part of the job, Harrison said.
"There's only been a few this year that haven't hurt," said Harrison, who has reached base safely in his last 20 road games. "What I like to say, 'It would probably kill common man.'"
Pittsburgh manager Clint Hurdle likes what Harrison does for the Pirates.
"He creates a wake, a positive wake out there," Hurdle said. "He's swinging the bat well. He's playing good defense. All the things combined, he's playing really good baseball. He's a fun player to watch."
Cole (6-6) extended his winning streak to three games, allowing five hits and one run with five strikeouts and two walks.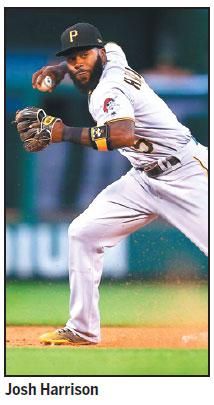 In Cole's four losing starts from May 22 through June 8, he surrendered 23 runs in 19 1/3 innings. Since then, he has reeled off three solid starts. Before Saturday, he allowed just three hits and one run in seven innings in each of his previous two starts.
"I just keep doing my job," Cole said. "You're going to make good pitches. You're going to make bad pitches. You're going to get hit and you're going to get away with some. There's always another pitch and another day."
Pittsburgh has won four of its last six games.
Slumping St. Louis has dropped eight of its last 11. The 33-40 start for the Cards is their worst since 2007.
Lance Lynn (5-5) struggled for the second consecutive start. He gave up seven runs and six hits, including three homers in 5 2/3 innings. In his previous start at Baltimore, Lynn gave up nine hits, seven runs and a season-high four home runs in 4 2/3 innings.
In his first season back after Tommy John surgery, Lynn has given up 20 home runs.
"I know if you look at it from the last two starts, that's two in a row that you'd like back," Lynn said.
"But I got to make sure I end it at that. You're going to go through a rut or something like that and you don't want to do that in the season and right now I'm in that."
Before Saturday, Lynn had not allowed a run in his past 12 innings against the Pirates. He fired seven scoreless innings in a 2-1 win against Pittsburgh on April 17 at Busch Stadium.
"He made some mistakes and we got him," Hurdle said about Lynn. "Good for us. He's been tough on us here."
Pittsburgh scored in the first on a two-out RBI single by Josh Bell that scored Harrison.
Associated Press