Brady super stoked on China
Legendary QB harbors dream of playing here
If telephone booths were still ubiquitous in the United States, Tom Brady might be tempted to duck into one to don his New England Patriots uniform every Sunday during the NFL season.
You know - the same way mild-mannered reporter Clark Kent changed into his Superman tights, before the booths became extinct.
The only difference is that Brady has never needed a cape to be super.
The 39-year-old quarterback and two-time league MVP is one of only two players to win five Super Bowl rings (former San Francisco and Dallas linebacker Chuck Haley is the other). He's also the only four-time Super Bowl MVP and owns 25 individual playoff records, including most career home victories (15), most touchdown passes (69) and most passing yards (9,094).
Oh yeah ... Brady is also married to a supermodel (Giselle Bundchen), is on a first-name basis with President Donald Trump, has raised tens of millions of dollars for charity and is a coveted endorser for some of the world's most prestigious brands.
And if celebritynetworth.com is accurate, he's socked away a cool $180 million.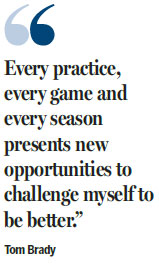 But perhaps most impressive is that after 15 seasons in the spotlight, Brady remains the same affable, unfailingly polite boy-next-door he was when the Patriots selected him in the sixth round - 199th overall - in the 2000 NFL Draft.
So how does he stay so motivated ... and unaffected?
"I'm sorry I don't have a more complicated answer for you, but I'd have to say it just comes down to my love of the game," Brady said at Beijing's Shi Cha Hai training center on Sunday afternoon, where he was promoting Under Armour's latest line of apparel.
"To be honest, it doesn't take much externally to motivate me. Everyone finds different ways of preparing themselves, mentally as well as physically ... and I'm very happy with the ways I've found. Football was my first love, and I've been very fortunate to have that feeling stay with me through all these years. In fact, it's grown stronger as I get older.
"Every practice, every game and every season presents new opportunities to challenge myself to be better, to not accept anything less than my best. That's all the motivation I need."
Like a high-school kid on his first field trip, Brady was bubbling over with excitement about visiting Asia for the first time.
"I've been fascinated with China my whole life, so to finally have the opportunity to come here and experience the people and the culture first hand is really incredible," he said.
"We arrived on Saturday night and we've already had a tour of the Great Wall and taken in some other sights. I'm really happy that my son made the trip, too. We tossed a football on the Great Wall, which made for a very special Father's Day moment that we'll cherish."
Brady, who will also visit Shanghai and Tokyo on this trip, said he hopes to have an opportunity to learn more about another subject close to his heart: Traditional Chinese Medicine.
"One of my best friends at college majored in TCM, and it has been part of my training and general health philosophy for years," he said.
"A lot of the value of TCM is preventing injuries before they happen by stressing hydration, nutrition and recognizing that what you put into your body is what you get out of it. It's a whole-body approach to better health, and I think it's wonderful."
Earlier this year, NFL commissioner Roger Goodell said the league is looking at staging a regular-season game in China by the end of the decade - and Brady would love to be calling signals in it.
"I think I can play at least another three or four years, and my dream is to one day play a game here in China. It's just a great spectacle, and knowing how passionate Chinese people are about sports, I think they would really enjoy it," he said.
Until that happens, Brady is happy to do all he can to promote the game in the world's most populous nation - including taking part in an energetic exercise session with aspiring Chinese players on Sunday.
"This country has a long history of producing great athletes, and with the dedication and work ethic these kids have, I don't think it will be too long before American football really takes off in China," he said.
murraygreig@chinadaily.com.cn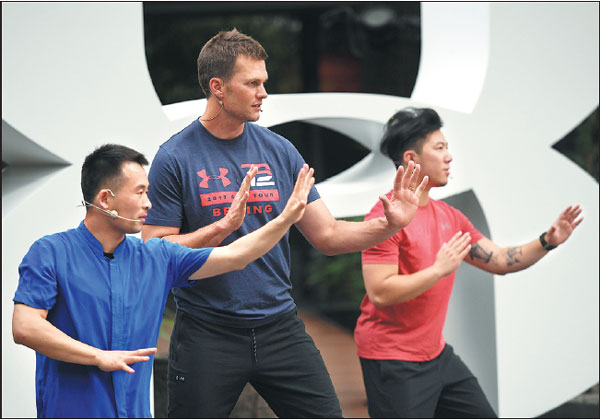 New England Patriots quarterback Tom Brady is flanked by a pair of trainers while learning wushu techniques during an impromptu workout at Beijing's Shi Cha Hai training center on Sunday.Wei Xiaohao / China Daily
(China Daily 06/20/2017 page24)