With gunfire and sweets, cricket-obsessed Pakistanis savour victory over India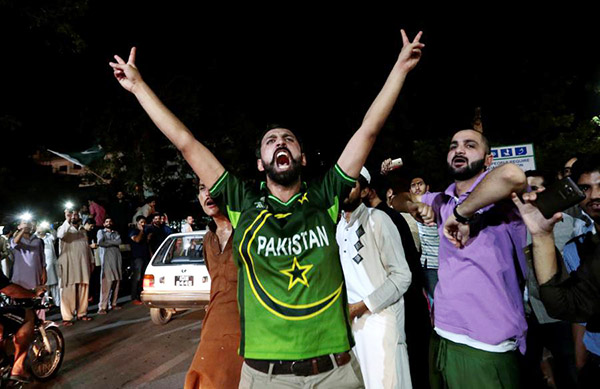 Pakistani cricket fans cheer after Pakistan defeated India in the Champions Trophy finals, in Islamabad, Pakistan June 18, 2017. [Photo/Agencies]
PESHAWAR/QUETTA, Pakistan - Cricket-obsessed Pakistanis flooded onto the streets draped in their national green and white flag in celebration on Sunday after their national team trounced arch-foe India in the Champions Trophy final.
Fireworks and jubilatory volleys of gunfire echoed around major cities as traffic ground to a halt, and young men danced to the beat of drums following their team's 180-run victory in the match at The Oval in London.
The stunning turnaround in form of Pakistan, which was thrashed by India in their opening game of the tournament and largely written off, has gripped the nation of 190 million people.
"I was not expecting that Pakistan will win the match, it was an unbelievable turnaround," said stock broker Haris Ali, 55, in the coastal metropolis of Karachi.
TV footage showed some fans watching in Pakistan shedding tears of joy after India's batting order collapsed.
"I'm so excited Allah has answered our prayers," said Nek Amal Khan, 42, a street vendor who was amongst thousands to throng the streets of the northwestern city of Peshawar.
Pakistan itself has hosted only a handful of international cricket matches over the past decade due to security fears.
In the western city of Quetta, thousands chanted "Pakistan Zindabad", meaning "long live Pakistan", while vendors distributed sweets. "I'm so happy," said Babar Khan, selling mangoes out of a pushcart.
Indian fans at The Oval ground in London departed early in their droves as the scale of the impending drubbing dawned on them.
In the Indian capital New Delhi, some fans watching an outdoor screening at Connaught Place, a central landmark in the city, chanted nationalist and anti-Pakistan slogans but fell silent as the game neared its climax, before drifting away, dejected.
The cricketing enmity between Pakistan and India has morphed into one of the world's greatest sporting rivalries. Former Pakistan skipper Waqar Younis once said matches between the two nations were neither sport nor war, but "somewhere in between".
Outbursts of jingoistic rhetoric and political showdowns between Islamabad and New Delhi have fanned the rivalry over the decades, despite the two nations' shared cricketing heritage prior to their violent rupture on the creation of Pakistan at the end of British colonial rule in 1947.
Reuters