Li's legacy earns Swiss salute
A statue of Li Ning, China's 'Prince of Gymnastics', was unveiled on Thursday in Montreux, Switzerland, as part of a celebration marking the 150th anniversary of the Swiss Montreux Gymnastics Committee.
Li, who won six medals - including three gold - at the 1984 Los Angeles Olympics, was joined by a host of celebrities from Swiss sports, politics and entertainment, including Montreux mayor and National Council member Laurent Wehrli and Yves Depallens, chairman of the Montreux Gymnastics Committee.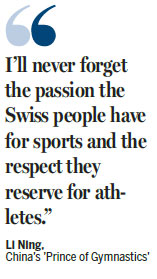 The bronze statue on the shore of Lake Geneva joins similar tributes to English rock vocalist Freddie Mercury, US jazz trumpeter Miles Davis and English actor Charles Chaplin. It immortalizes Li's signature move en route to winning the inaugural Arthur Gander Memorial and Swiss Cup in Montreux in 1985.
Li is the first Chinese citizen to have a statue erected in Switzerland.
"It's a great honor to take part in the anniversary celebration; I'll never forget the passion the Swiss people have for sports and the respect they reserve for athletes," Li said at the unveiling.
The Los Angeles Games marked the first Olympics that China entered after the founding of the People's Republic in 1949. Li won gold medals in the floor exercise and on the pommel horse and rings, as well as two silvers and a bronze.
After retirement, he became a businessman and founded the Li-Ning Company Limited, which manufactures athletic shoes and sporting goods and has endorsement deals with dozens of Chinese and foreign athletes and teams.
"It's a great honor to have Mr Li Ning here for the anniversary celebration," said Depallens. "The citizens of Montreux stood witness to his spectacular performance in 1985, and to have a statue of him here sends a message to Montreux children to love sports and gymnastics."
China and Switzerland have signed agreements to cooperate on mutual sports development. The Swiss city of Lausanne will host the 2020 Youth Olympics, while Beijing and Zhangjiakou of Hebei province will host the 2022 Winter Games.
"I hope I can contribute, based on my understanding and experience through years of being an athlete and a businessman, to the exchange and communication in sports ... and in other circles of life," Li said.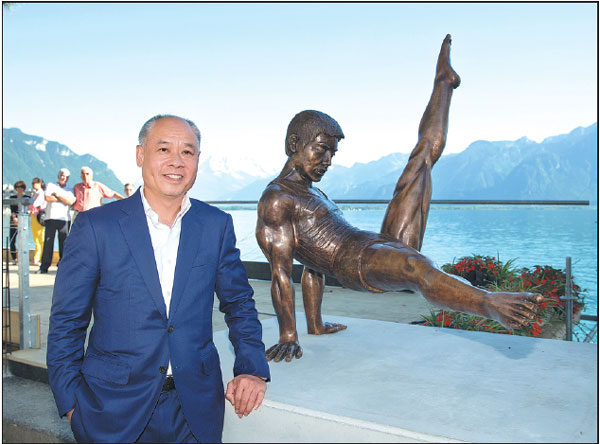 Li Ning, who won six gymnastics medals for China at the 1984 Los Angeles Olympics, poses with his statue on the shore of Lake Geneva in Montreux, Switzerland. The statue depicts Li at the inaugural Arthur Gander Memorial in Montreux in 1985.Xu Jinquan / Xinhua
(China Daily 06/10/2017 page12)