Narisara navigates career-best round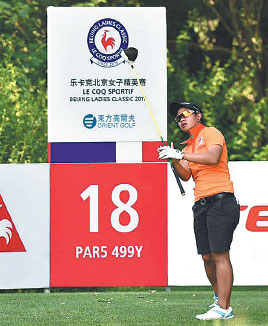 Thailand's Narisara Kerdrit tracks a tee shot during Thursday's opening round of the Le Coq Sportif Beijing Ladies Classic at the Oriental Pearl Country Club. Provied To China Daily
Thailand's Narisara Kerdrit set a blistering pace in Thursday's opening round of the China LPGA Tour's Le Coq Sportif Beijing Ladies Classic at the Oriental Pearl Country Club.
Narisara fired a career-best 9-under 63 to take a two-shot lead over Chinese teenager Shi Yuting, who carded a 65. South Korea's Na Hee-won sits third, one stroke back.
The 26-year-old Narisara beat her previous best round by two strokes in a red-hot display that included eight birdies, an eagle two on the 320-yard fifth hole and a bogey.
Her 63 tied the tournament record for low round set by compatriot Wichanee Meechai in 2013.
"It wasn't a good start on the first three holes. Then I got a birdie on the fourth and an eagle on the fifth," said Narisara, who is still searching for her first win after eight years on the China LPGA Tour.
"From 66 yards it went slam-dunk in the hole with a 56-degree wedge. Just plopped in. After that, the putter was good.
"I didn't expect that I was going to shoot so well. I just kept going because on this course the scores are really low. I just want to keep doing my bit and save some shots for tomorrow, when it is supposed to be a bit windy."
Shi, who currently sits 51st on the Japan LPGA Tour after 12 events, carded a bogey-free round on the strength of four birdies and an eagle three on the 462-yard 14th after starting on the back nine.
"It's all about good putting. I made some nice putts from 25 feet to 30 feet, and my eagle was from about 15 feet," said Shi, a Beijing native.
"It made me happy because I hadn't been making those shots for a while."
Last week, the 19-year-old successfully defended her China National Team individual title in Heibei province and also helped lead the Beijing Women's Team to the team title.
"I would say this was a good extension from the win last week," she said.
"I have been playing 14 straight weeks and I have maintained my momentum well. The greens here are quite fast ... a bit faster than last week. I have had to handle fast greens week in and week out on the Japan LPGA Tour, so I have a good feeling on these greens.
"The conditions are as good from tee to green as I remember, and so far I've been able to deal with the layout quite nicely.
"There's no reason to worry about my physical strength over the next two days. I feel strong."
After making the turn at 2-under 34, Na reeled off four birdies on the back nine to move into third place. But the fifth-year pro, playing in China this season after losing her card on the Korea LPGA Tour, said she wasn't feeling particularly good about some shots.
"I was trying to establish my swing rhythm," said the Seoul native.
"My putts were really good because the greens are so smooth. When I have a chance for a birdie, my putting is pretty good. But when I have no chance I just try to get a safe par."