Sharp-shooting Shi in spotlight
Teenager taking on tough field in Beijing event
Shi Yuting will be looking to stay in the winning groove when the China LPGA Tour's 800,000 yuan ($116,800) Le Coq Sportif Beijing Ladies Classic tees off at the Oriental Pearl Country Club on Thursday.
Fresh off last week's defense of her China National Team individual title in Langfang, Hebei province, the 19-year-old Shi is back on her home turf after spending the first part of her rookie season playing on the Japan LPGA Tour, where she has earned 5.78 million yen ($57,000) from 12 starts to sit 51st on the money list.
In addition to defending her individual title in Langfang, Shi helped lead the Beijing Women's Team to the team championship.
"Playing in Japan has made me a higher-caliber player. Many of the courses on the Japan LPGA Tour are tricky; they have firm and undulating greens, which threw out a challenge to me and forced me to work much harder on my short game," Shi said before Wednesday's pro-am.
"But it's paying off. I had my best finish (a tie for 13th) when I left for China two weeks ago. Last week I was glad to successfully defend for the first time since I turned pro.
"I am coming into this event with good momentum. This is my sponsor's event and I will do everything in my power to ensure the best finish here."
Shi, winner of last year's Zhuhai Hengqin Phoenix Tree Building Challenge, will need to be at her best to top the leaderboard this week as the field includes Zhang Weiwei, winner of the Zhuhai leg who is playing on the Japan LPGA Tour development circuit; Symetra Tour regular Liu Yuxin; and Luo Ying, the US college standout from Shenzhen who last year helped lead the Washington Huskies to their first NCAA Division 1 title.
Also looking to spoil Shi's homecoming is defending champion Li Jiayun. Last year, the Guangzhou native became the first winner to record a hole-in-one in the event when she aced the 133-yard seventh in the second round.
"Apart from the win, I have had some nice finishes at that course over the years," said the 28-year-old Li, a two-time winner on the tour. "Definitely, it's one of my favorite courses. I am having good vibes now. You are definitely lucky no matter where you win."
Li, who sank a 10-foot putt for a birdie on the last hole to triumph by one shot over compatriots Yan Panpan and amateur Sui Xiang last year, said the good weather and great course conditions should force a lower score than her 13-under 203 winning total.
"It's a strong field. The last event attracted nearly all the top players from China. You expect that they could play well. I need to string together three good rounds to defend this title, which is my goal.
"Shooting 13-under for 54 holes last year is among my career-best performances. I will do my utmost to play better than that, but I'd better not think it about before the first round."
Also in the field is Liu Wenbo, the 16-year-old who in April became the youngest player to win a China LPGA Tour event when the amateur captured the Zhangjiagang Shuangshan Challenge.
"I like the way I have been playing recently and I need to keep it up," said the Beijing teenager who beat Thailand's Kanyalak Preedasuttijit in a first-hole playoff in Jiangsu province for her historic win.
"This is my first time here. I did have a couple of nice practice rounds. A low score is out there. The hazards are in front of you. Hopefully I can get into contention again and have a chance to capture another trophy."
chenxiangfeng@chinadaily.com.cn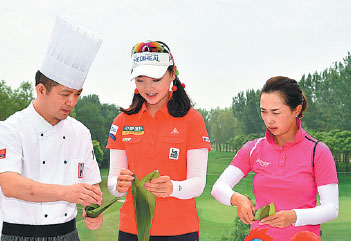 A chef shows golfers Shi Yuting (center) and Li Jiayun how to make zongzi, the traditional snack of the Dragon Boat Festival, ahead of the Le Coq Sportif Beijing Ladies Classic at the Oriental Pearl Country Club on Tuesday. Provided To China Daily