Tiger claims booze not to blame for DUI arrest
PALM BEACH, Florida - Tiger Woods attributed an "unexpected reaction" to prescription medicine for Monday's arrest on a DUI charge that landed him in a Florida jail for nearly four hours.
Woods, the 14-time major champion who had back surgery five weeks ago, was arrested on suspicion of driving under the influence at about 3 am on Monday and taken to Palm Beach County jail. He was released on his own recognizance.
An arrest report might be released to the media on Tuesday, according to police.
"I understand the severity of what I did and I take full responsibility for my actions," Woods said in a statement on Monday evening.
"I want the public to know that alcohol was not involved. What happened was an unexpected reaction to prescribed medications. I didn't realize the mix of medications had affected me so strongly."
Woods apologized to his family, friends and fans, and said: "I expect more from myself, too. I will do everything in my power to ensure this never happens again."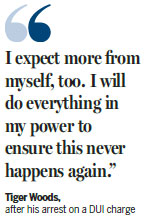 Woods, whose 79 victories rank No 2 on the PGA Tour's career list, has not competed for nearly four months.
He has withdrawn from the tour for the rest of the season while he recovers from fusion surgery performed on April 20 in Texas.
In a statement posted on his website last week, Woods said the surgery provided instant relief from pain and that he "hasn't felt this good in years".
Police said Woods was arrested on Military Trail, a six-lane road, south of Indian Creek Parkway.
Woods did not say in his statement where he had been or what he was doing at that hour. Jail records show that the 41-year-old was booked into jail at 7:18 am and released at 10:50 am.
The jail released a booking photo.
A police spokesman said there were no further details about the circumstances leading to Woods' arrest or any information about whether the arrest involved drugs or alcohol.
Woods' agent at Excel Sports, Mark Steinberg, did not respond to a voicemail from Associated Press seeking comment, and PGA Tour spokesman Ty Votaw said the tour would have no comment.
Woods said in his statement he fully cooperated with law enforcement and thanked Jupiter Police and the Palm Beach County Sheriff's Office for being professional.
Notah Begay, a roommate of Woods when they played at Stanford, was empathetic.
Begay was arrested for aggravated drunken driving in 2000 when he ran into a car outside a bar in New Mexico. He was sentenced to 364 days in jail, with all but seven days suspended.
"It's embarrassing for Tiger, something that you can't go back and change," Begay said on Golf Channel from the NCAA men's golf championship in Sugar Grove, Illinois.
"I've been there myself, but it was a turning point in my life.
"Hopefully, it's something he'll learn from, grow from, take responsibility for and use it to make some changes."
Woods has not been seen at a golf tournament since he opened with a 77 at the Omega Dubai Desert Classic in February, withdrawing the next day because of back spasms.
He was in Los Angeles for the Genesis Open, run by his charity, the Tiger Woods Foundation, but did not visit the course at Riviera because of his back.
He was at the Masters, but only to attend the dinner for past champions.
Woods, who was world No 1 for a record 683 weeks, has not been a factor since his last victory in August 2013 as he battled through back surgeries from a week before the 2014 Masters until his most recent fusion surgery on his lower back a month ago.
Monday's arrest marks the first time Woods has run into trouble off the golf course since he plowed his SUV into a tree and a fire hydrant outside his home in Windermere, Florida, in November 2009, which led to revelations that he had multiple extramarital affairs.
A police report at the time showed that a Florida trooper who suspected Woods was driving under the influence sought a subpoena for his blood-test results from the hospital, but prosecutors rejected the petition for insufficient information.
A witness, who wasn't identified in the report, told the trooper Woods had been drinking alcohol earlier. The same witness also said Woods had been prescribed two drugs, the sleep aid Ambien and the painkiller Vicodin.
The report did not say who the witness was, but said it was the same person who pulled Woods from the vehicle after the accident.
Woods' wife told police that she used a golf club to smash the back windows of the Cadillac Escalade to help her husband out. He eventually was cited for careless driving and fined $164.
Woods and wife Elin Nordegren divorced in 2010. He later had a relationship with Olympic ski champion Lindsey Vonn that lasted two years.
Associated Press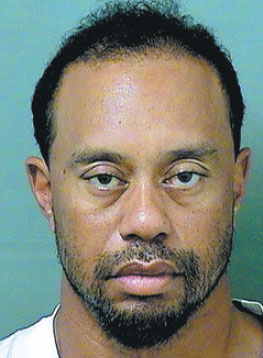 Tiger Woods' police mugshot, released on Monday by the Palm Beach County Sheriff's Office in Florida. Woods was charged with DUI. Reuters
(China Daily 05/31/2017 page22)