Spain receives 1 mln int'l golf player tourists each year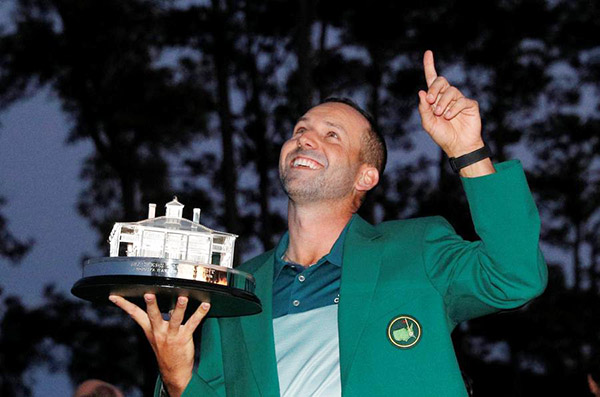 Sergio Garcia of Spain points to the sky as he holds the Masters trophy after winning the 2017 Masters golf tournament at Augusta National Golf Club in Augusta, Georgia, US, April 9, 2017. [Photo/Agencies]
MADRID - Spain receives average 1 million international tourists, who traveled to the country mainly to play golf, each year, according to a report by Golf Business Partners.
The report titled "The impact of golf on Spain" ranked Spain as the world's second in terms of the number of arrivals for this purpose, only surpassed by the United States.
"Spain is a leading country in terms of tourism and regarding golf it is the same," Jose Miragalla, responsible for marketing at the Royal Spanish Golf Federation, told Xinhua in an interview on the occasion of UNIGOLF, a fair dedicated to golf held in Madrid.
"The quality of service and infrastructure at a national level, along with the good weather, it is key, then culture and gastronomy are also important. I think it is an ideal country to receive any kind of tourist," he said.
According to the report, in 2016 there were 272,280 Spanish citizens affiliated to the Federation, but the figure topped 1 million when foreigners are included.
The activity generates around 400 million euros every year with people spending average a week in four and five-star hotels.
The sector highlights that this kind of tourism is very good for the country, making great contributions to the gross domestic product. According to the report, they spend 74.8 percent more than other tourists due to their high purchasing power with a daily spending of 171.4 euros (183.9 U.S. dollars).
Playing golf means social gatherings that go from spending time with family and friends to business meetings, explained Miragalla.
"It is true that many CEOs play golf and instead of having a formal meeting at the office they go to play golf and having a more relaxing meeting and build networking in a different way," said Miragalla.
Spain is promoting the sport among the public through public golf courses and golf at schools.
"Spain is boosting public golf courses, trying also to make golf closer to cities, so that people who live in the cities do not have to travel a long distance to practice," said Miragalla.
"The Spanish Federation is promoting golf at schools as part of the subject of physical education. Children from every kind of school, private or public, can have the opportunity of playing golf for the first time," he added.
There are a total of 359 golf courses in Spain, plus 21 rustics and 95 Pitch&Putts and schools.
Spain received 75.6 million international tourists in 2016, hitting a new record high and being one of the most visited destinations in the world.
It ranked first in both 2015 and 2016 in the Travel and Tourism Competitiveness Report published by the World Economic Forum, which highlighted the good infrastructures, cultural resources and adaptation to new technologies.