Birdie blitz boosts Zhang
China's Zhang Weiwei credited "an unexpected gift from the golf gods" for her first win on the China LPGA Tour at the Zhuhai Hengqin Phoenix Tree Building Challenge on Saturday.
Zhang opened the final round six strokes back of Chinese Taipei's Lin Tzu-chi, the overnight co-leader, but quickly made up the gap thanks to a birdie blitz on the back nine to close with a 3-under 69 over the Orient Zhuhai course and finish at 3-under 213.
Lin struggled to a 78 to finish runner-up at even par, one stroke ahead of fellow islander Chen Min-jou (75) and Thailand's Parinda Phokan (70).
China's Du Mohan was the top amateur after the 15-year-old closed with a 72 to tie for fifth with Thais Narisara Kerdrit (72), Aunchisa Utama (72) and Renuka Suksukont (68), five strokes off the pace.
China's Yang Taoli, who led or shared the lead through the first two rounds, ballooned to an 81 to finish tied for ninth, one shot further back.
"Being able to keep calm throughout the final round was the key to winning," Zhang said.
"It was a gift sent by the golf gods. I didn't think about winning when I started the day; I just told myself to go out there and enjoy it."
Zhang was runner-up here in 2015 and placed third last year.
She said starting the final round in the last group helped maintain her focus on the task at hand, rather than thinking about winning.
After struggling a bit on the front nine, Zhang caught fire after the turn, draining birdie putts on the 10th, 11th and 13th holes.
"When I found myself only one stroke behind Lin after the 16th, I started to get excited ... but I quickly calmed down and caught another birdie on the 17th," she said.
It was a dramatic turnaround from Zhang's disappointing performance at the previous week's World Ladies Championship on her home course in Haikou, Hainan Island, where she finished 53rd.
"I would like to say this was the best birthday gift I could hope for," said Zhang, who celebrated her 20th birthday on March 15.
After realizing one of her goals for this year - capturing her first pro win - Zhang said her confidence is at an all-time high.
"I believe I can have a better year than last year. My next step is Japan, where I will play the development tour.
"Hopefully I can have good preparation for Q school there at the end of the year."
Zhang hopes to follow the example of Shi Yuting, the 19-year-old who won the Zhuhai tournament last year.
Shi maintained her good form in becoming the youngest Chinese golfer to play as a regular on the Japanese tour this year.
"I hope I can also make into the Japan LPGA tour like Shi did, but I don't like to be called 'the next Shi'. I want to be myself," Zhang said.
"Our styles are quite different. She is more methodical, while I am more aggressive."
Zhang was introduced to golf when her father took her to a course when she was nine years old, and her parents have spent a lot of time traveling with her to tournaments around the country.
"But I know golf is a game you play on your own and a game you play against yourself," she said.
"It's dull and dry to practice swinging and putting over and over again on my own, but I still enjoy addressing challenges on different courses and under different situations. It's exciting for me."
xujingxi@chinadaily.com.cn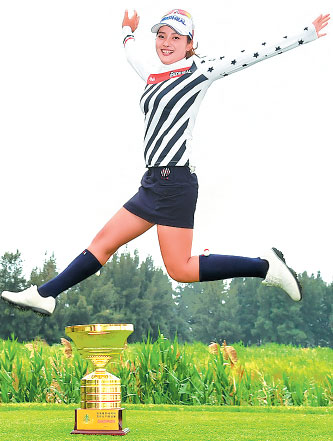 Zhang Weiwei jumps over the trophy after winning the Zhuhai Hengqin Phoenix Tree Building Challenge on Saturday in Zhuhai, Guangdong province. Provided To China Daily
(China Daily 03/27/2017 page24)