Westbrook's dominance puts Cousins in foul mood
OKLAHOMA CITY - Russell Westbrook blew past Steven Adams' pick and saw 6-foot-11, 270-pound DeMarcus Cousins slide over to block his path to the rim.
Westbrook didn't care.
Oklahoma City's 6-3 point guard leaped up and uncorked a devastating right-handed jam over the new member of the New Orleans Pelicans, drawing Cousins' sixth foul with 2:38 to go on Sunday night.
Westbrook scored 41 points in his 29th triple-double of the season to help his squad beat the Pelicans 118-110. The fact that Cousins fouled out was secondary.
"It don't matter how many fouls," Westbrook said.
"It didn't matter. I just jumped, and it went in to finish it."
Newly acquired Thunder forward Doug McDermott, unaccustomed to such feats, was stunned.
"Man, it was crazy," he said. "I'm glad I'm on his side."
Westbrook had a career-best 21 fourth-quarter points. He shot 7 for 19 from the field in the first three quarters and was 7 for 10 in the fourth.
"Throughout games, I've got to find a better way to pick my spots," he said.
"Tonight was the fourth quarter. Some nights it may be early, some nights it may be late."
Westbrook also had 11 rebounds and 11 assists in the 66th triple-double of his career.
Enes Kanter had 20 points and nine rebounds, and Adams added 13 points and 10 boards for the Thunder, who won their third straight.
Anthony Davis scored 38 points for the Pelicans while Cousins had 31 points and 10 rebounds, but played just 22 minutes.
"We put ourselves in position to win, and when you do that, you have to make plays down the stretch," said New Orleans coach Alvin Gentry.
The Pelicans fell to 0-3 since acquiring Cousins in a trade with Sacramento during the All-Star break.
"It's a learning curve right now," Cousins said.
"We're still getting to know one another. We've just got to keep growing."
Cousins picked up his fifth foul in the final minute of the third quarter, and the Thunder entered the fourth with an 87-84 lead.
Asked if it was difficult to stay focused after getting in foul trouble, Cousins said: "It is, but I have to find a way to play through it.
"I have to fight through the adversity and ignore the negativity and just do what's best for the team."
Davis' 24 points in the first were the second-most points by a Thunder opponent in a quarter since the team moved to Oklahoma City for the 2008-09 season.
Gerald Green holds the record after scoring 25 for Phoenix against the Thunder back in 2014.
Tip-ins
Pelicans: Cousins picked up a technical and two personal fouls in the first 95 seconds. It was his 18th technical this season and if not rescinded will trigger another one-game suspension ... Gentry and Solomon Hill were called for technicals after the first half ended.
Thunder: It was Westbrook's fourth triple-double this season in which he scored at least 40 points ... Guard Victor Oladipo missed his second straight game with back spasms ... Westbrook was called for a technical in the first quarter ... Oklahoma City outrebounded the Pelicans 53-35
Associated Press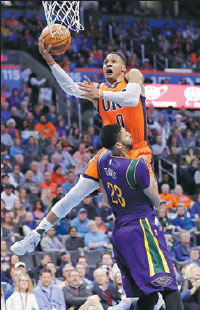 Oklahoma City Thunder guard Russell Westbrook drives to the hoop over New Orleans Pelicans forward Anthony Davis during Sunday's game in Oklahoma City. The Thunder won 118-110. AP
(China Daily 02/28/2017 page24)