James puts a muzzle on Wolves
LeBron outduels Wiggins to lead Love-less Cavaliers to victory
LeBron James spent Tuesday morning sending a clear message to the Cleveland Cavaliers in the wake of Kevin Love's knee injury: Things will be just fine as long as King James is on the court.
He spent Tuesday night backing that up against an emboldened Andrew Wiggins and the Minnesota Timberwolves - as if anyone doubted him in the first place.
James had 25 points, 14 assists and eight rebounds to lead the Cavaliers to a 116-108 victory over the Timberwolves.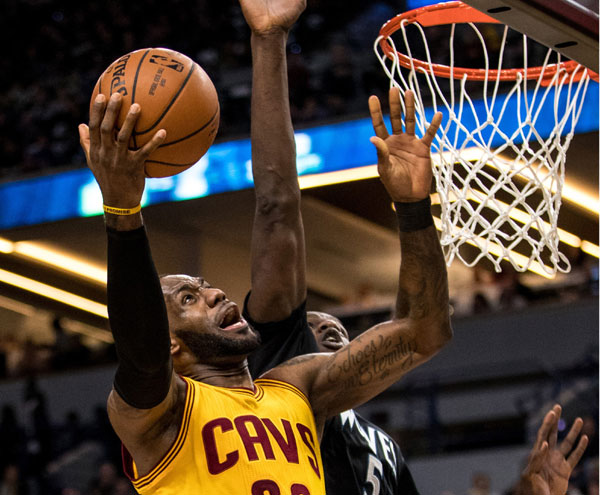 Cleveland Cavaliers captain LeBron James goes up for a bucket against the Minnesota Timberwolves on Tuesday night at Target Center in Minneapolis. James had 25 points and eight rebounds as the Cavs rolled to a 116-108 victory. USA Today Sports
Channing Frye had 21 points and 10 rebounds while starting for Love, who will miss at least the next six weeks after having surgery on his left knee.
Kyrie Irving scored 25 points for the Cavs and James sealed the victory with a stepback 3-pointer with two minutes to play.
"The one thing that we can always rely on is the fact that we've played without Kev before," James said.
"We've had to do that in the playoffs. As much as you don't like to play without some of your big guns, sometimes it happens."
Wiggins scored 41 points against the team that drafted him and Karl-Anthony Towns scored 26 for the Wolves, who finished a six-game homestand at 2-4.
Minnesota allowed Cleveland to shoot 51 percent and hit 13 3s.
"It's always competitive playing them," Wiggins said. "I feel like it brings out the best in everybody."
James took his time to get going, choosing to get others involved, including with a no-look pass through Wiggins' legs to a diving Derrick Williams for a layup in the second quarter.
James threw down two soaring dunks later in the third and added a Jordan-like reverse layup as part of a highlight-filled night.
"It's been a burden on me since I got drafted. Why does it change now?" James said when asked if he has to do more with Love out.
"Nothing's changed. I'll have my guys ready to play every single night."
The Cavs appeared to be pulling away when they opened a 14-point lead in the third quarter, but Wiggins exploded for 20 points in the period to make it a game. He hit a 3-pointer and beat the buzzer on a long 2 to tie it at 93 going into the fourth.
Wiggins, a Canadian, was chosen by the Cavs No 1 overall three years ago, but that was before James made his surprising return to Cleveland.
The Cavs traded Wiggins to Minnesota for Love and Wiggins has always given them his best punch. He entered the night averaging 27.6 points per game against them, his highest scoring average against any team in the league.
The Wolves missed two open 3-pointers that would have tied the game in the final four minutes, but James hit his from deep and Williams got a steal and a layup to drop Wiggins to 0-6 against the Cavs.
"We'll get 'em eventually," Wiggins said.