Gullit, Hoy become Laureus World Sports Academy newcomers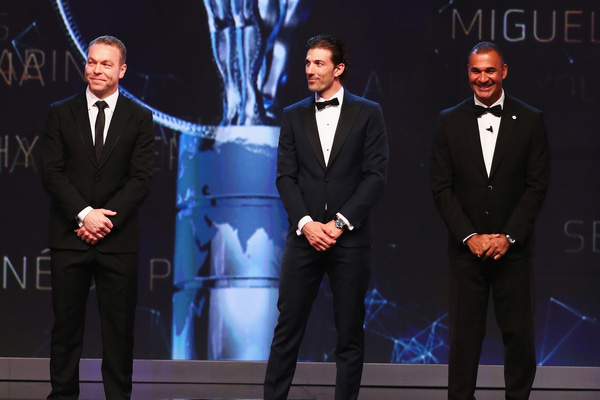 New Laureus Academy Members Sir Chris Hoy, Fabian Cancellara and Ruud Gullit on stage during the 2017 Laureus World Sports Awards at the Salle des Etoiles,Sporting Monte Carlo on February 14, 2017 in Monaco, Monaco. [Photo/VCG]
PARIS - Sporting legends Ruud Gullit and Chris Hoy were announced into the Laureus World Sports Academy, hours before the 2017 Laureus World Sports Awards ceremony was held in Monte Carlo, Monaco on Tuesday.
One of the Netherlands greatest ever footballers, Gullit led the national team to win at the 1988 European Championship, becoming the first captain to lead the team win in major international tounaments.
In club level, Gullit won three Dutch league titles with Feyenoord and PSV, before claiming three Serie A titles and two European Champions Cups with AC Milan. He was honored the Ballon d'Or in 1987, and received World Soccer Player of the Year twice in 1987 and 1989.
"I'm delighted to join this group with sporting legends. It's an honour for me to have the chance to help continue the legacy," commented the Dutch football namecard.
Chris Hoy was undoutedly most decorated track cycling athlete of Britain, winning six gold and one silver medals in four consecutive Olympic Games, along with 11 world championships titles. After retiring from track cycling in 2013, Hoy became the first Summer Olympic medalist to compete in the Le Mans 24 Hours.
"Sport has an incredible impact on my life. I'm passionate about using sport to help youth, and looking forward to helping support Laureus Sport for Good in the future," said the British cycling legend.
The two will be joined on the stage by cycling champion Fabian Cancellara at the ceremony held this evening.
The Laureus World Sports Academy aims at promoting sporting development around the globe and increasing sport's impact on society. Five Chinese athletes, namely Deng Yaping, Yang Yang, Li Xiaopeng, Yao Ming and Li Na, have been introduced as members of the Academy.