Quick Knicks slam door on Spurs
New York tightens defensive screws to replicate a blast from the past
Latrell Sprewell was back in the building and so were many other former Knicks.
Then the current team pulled out a defensive performance from its past.
Carmelo Anthony scored 25 points and New York salvaged the finale of a tumultuous five-game homestand by beating the San Antonio Spurs 94-90 on Sunday.
Two nights after yielding 131 points against Denver, the Knicks used speed to set up a suffocating defense that limited the high-scoring Spurs to 36 percent shooting. San Antonio didn't reach 70 points until late in the fourth quarter.
"That's great to watch. That's the right way to play basketball," Knicks coach Jeff Hornacek said.
Sprewell returned for the first time in more than a decade, sitting next to Knicks owner James Dolan two days after the latter banned former player Charles Oakley from Madison Square Garden following his arrest for an altercation with security guards during the loss to the Los Angeles Clippers.
The former players, including Larry Johnson, Bernard King, Vin Baker, Kenny Walker and Herb Williams, visited the team along with Dolan in the locker room after Sunday's game.
First, the Knicks of today showed fans they can win with defensive grit, too.
"They want us to compete. I understand that," Anthony said. "Win, lose or draw they want us to go out there and compete on a nightly basis and if we'd have lost this game today, this would have been a game where I can say we competed and the effort was there and everything was there."
Anthony provided offense when the Knicks needed it clinging to a two-point lead, making consecutive baskets to make it 92-86 with 33 seconds remaining.
Kawhi Leonard had 36 points for the Spurs (41-13), who had their two-game win streak snapped and failed in their first attempt to secure what would have been an NBA-record 20th consecutive winning season.
"The object is to put the ball in that orange ring," Spurs coach Gregg Popovich said. "That's what we are all trying to do. Play a little D at the other end. But that orange ring, that ball's got to go in there. Thirty-six percent from the field and 20 from 3, whatever it was, that's not going to get it done on the road."
Spree in the seats
Sprewell hadn't been at MSG since playing here for the final time on Dec 29, 2004.
Perhaps to back Dolan's point that the franchise has strong relationships with almost all its other former players, the Knicks showed a number of them on the video board during the game.
Sprewell spent five seasons with the Knicks, helping them reach the 1999 NBA Finals, but cursed at Dolan in his first game back after being traded to Minnesota. A Knicks official had been working for the past few years to reconcile their relationship so Sprewell could return, and Sprewell sat next to Dolan on the baseline.
Drama-free
Popovich wouldn't touch any questions about Oakley or Knicks president Phil Jackson's recent criticism of Anthony, but did agree that stability off the court helps his team have success on it.
"I don't have a drama meter to prove one way or the other, but less drama makes my job easier and that's good enough for me," said Popovich, who added that winning in general makes things better.
"The grass looks greener and the sky's blue more often when you win a game than lose a game," he said.
After their tough stretch, the grass was covered by sleet and freezing rain in New York on Sunday morning.
Tip-ins
The Spurs signed veteran center Joel Anthony for the remainder of the season following the expiration of his second 10-day contract ... Jonathon Simmons missed the game because of illness ... The Knicks changed their lineup again, starting Willy Hernangomez after going with Porzingis in a small lineup on Friday ... Lance Thomas returned after missing 14 games with a broken bone in his face but Joakim Noah missed his fourth straight with a sore left hamstring. Hornacek said the Knicks would weigh sitting out Noah in their only game this week before the All-Star Game.
Butler-less Bulls battered
The Chicago Bulls were severely shorthanded for Sunday's 117-89 loss to Minnesota. If Jimmy Butler's heel doesn't improve quickly, the Eastern Conference could face a similar issue in the All-Star game next weekend.
The Bulls scratched Butler, Dwyane Wade, Nikola Mirotic and Paul Zipser in the loss to the Timberwolves, the final stop of a six-game road trip.
Wade sat out with a swollen right wrist, Butler has a bruised right heel, Mirotic developed back spasms and Zipser stayed at the team hotel because of an illness.
That left the Bulls with 10 healthy players against Minnesota.
Butler missed three games with a bruised right heel before returning to play 30 minutes in a loss to Phoenix on Friday.
Bulls coach Fred Hoiberg said Butler felt "pretty significant soreness" and would be re-evaluated before the team plays Toronto on Tuesday.
He said it was too soon to predict if Butler would be avail-able for the All-Star game in New Orleans on Feb 18.
Butler said it wasn't a mistake to play in the Suns game even after the injury flared up.
"I love the game," he said. "I love playing with these guys. I will take that risk."
Wade had X-rays at Target Center that came back clean. He picked up the injury while bracing a fall in Friday night's game against Phoenix. The team views his status as day-to-day for the moment.
"I'm just focusing on now," Wade said when asked if he thinks he will be shut down through the All-Star break.
"Obviously I've played through a lot of things, so I can play through it if it's manageable. But really not today, when I can't bend it."
Zipser likely would have missed the game on Sunday anyway with a sore left ankle if he had not fallen ill, and Mirotic came out of the Suns game with back spasms that intensified in Minnesota.
All of the injuries are the latest problems for a Bulls team that has been drowning in dysfunction and distraction this season.
"It seems like the Oklahoma City game was 35 days ago," Hoiberg said of the first game of the trip, which the Bulls won on Feb 1. "We just have to continue to fight, continue to battle."
AP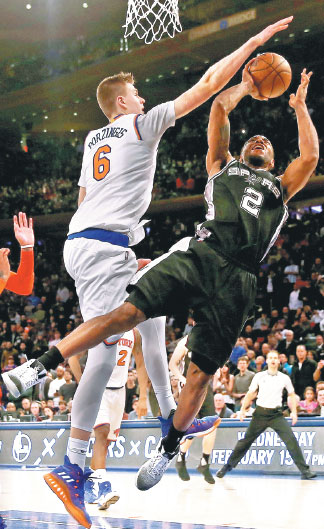 Kristaps Porzingis of the New York Knicks gets a block on Kawhi Leonard of the San Antonio Spurs during their NBA clash at Madison Square Garden on Sunday. The Knicks won 94-90. AFP
(China Daily 02/14/2017 page23)