Durant whips up a storm on Thunder return
Warriors star jeered throughout as tensions run high over summer exit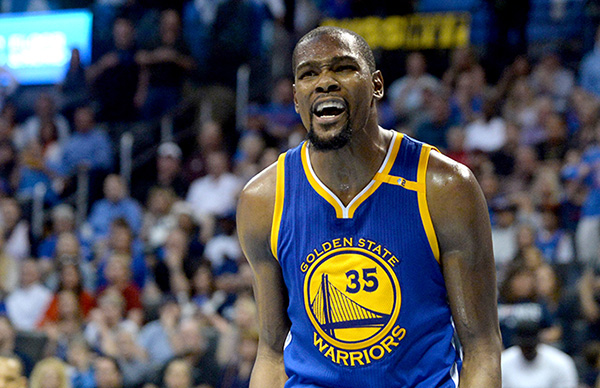 Golden State Warriors forward Kevin Durant (35) reacts after a play against the Oklahoma City Thunder during the fourth quarter at Chesapeake Energy Arena in Oklahoma City, US on Feb 11, 2017. [Photo/Agencies]
Hours before Kevin Durant was to play in Oklahoma City for the first time as a visitor on Saturday, some Thunder fans were already gathered around Chesapeake Energy Arena, showing their contempt for the man who left as a free agent last summer and joined the rival Golden State Warriors.
The venom continued as the game, which the Warriors won 130-114, approached. Durant was booed during warmups, and booed even more loudly during starter introductions. After tip-off, he was booed whenever he touched the ball.
Brady Cox of Newcastle, Oklahoma, stood outside the arena wearing a blue Durant jersey with the word 'Traitor' duct-taped under the No. 35. He held a sign with 'Mr. Unreliable' at the top, referencing a headline The Oklahoman ran above a photo of Durant during the 2014 playoffs and later apologized for.
"When they first came out with Mr. Unreliable, I was very upset," said the disgruntled fan. "I thought, 'That's nothing like KD.' A few years later, I'm upset again. I'm like, 'How could he do this to us?'"
Durant said before the game he didn't expect a warm reception. He knows how passionate the fans are, and they are part of why he has such fond memories of Oklahoma City.
"You plan for the worst," Durant said. "Obviously, I know how it is. I know fans are loud, especially here. Just try not to think about it and go out there and play. Once the ball is tipped up, just go out there and play the game."
Durant felt strange going to the visitor's locker room for the first time.
"There's definitely emotion," he said. "I played here for eight years. There's no getting around that."
Another Thunder fan wearing an orange Russell Westbrook shirt held a sign that said 'KOWARD", with the K and the D in orange and the rest of the letters in blue.
Still, many fans have fond memories of Durant's time in Oklahoma City. He won the 2014 MVP award, was a four-time scoring champion, led the team to the NBA Finals in 2012 and is a member of the state's Hall of Fame.
"He did do a lot of good stuff for the city," Chris Cordova of Edmond, Oklahoma, said. "I'm not going to discount that at all."
The fact that Durant led the Thunder to a 3-1 lead over the Warriors in the Western Conference finals last season before losing the final three games made the fact that he went to Golden State that much more difficult to accept for some fans.
"Definitely mixed emotions," Cordova said. "A lot of angry people, a lot of bitter people. And just the team that he went to. He went to Golden State, the team that eliminated them. It makes you wonder if they (the Thunder) had won Games 5, 6 or 7, if he would have even gone."
Kevin deals with drama and piles on the points
Kevin Durant scored 34 points in an emotional return to Oklahoma City on Saturday to lead the Golden State Warriors to a 130-114 NBA win over the Thunder.
Durant, who left the Thunder as a free agent last year, was jeered from pre-game introductions through the end of the game by Oklahoma City fans. But he connected on 12 of his 21 shots from the field and pulled down nine rebounds as the Warriors improved their league-leading record to 46-8.
Stephen Curry and Klay Thompson scored 26 points apiece as the Warriors withstood a 47-point, 11-rebound effort from Thunder star Russell Westbrook.
"For us this was very, very similar to what we've experienced in the playoffs," Curry said of the charged atmosphere. "It wasn't anything new for the guys that have been in this visiting locker room before and played a meaningful game."
Victor Oladipo scored 20 points and Steven Adams contributed 13 but was limited to just three rebounds.
The tension ratcheted up late in the third quarter. Durant and Westbrook had a verbal exchange going into a timeout, with Westbrook calling "I'm coming" and Durant responding "You're going to lose."
Minutes later Thunder forward Andre Roberson fouled Durant while going for a layup. That led to Durant exchanging more words and the two butting heads before being separated.
The run-in sent 18,000 fans into a frenzy, but the Warriors were in full control when the quarter ended, taking a 105-87 lead into the final frame.
Durant got off to a slow start, but ended up with 15 points in a first half that saw the Warriors build a 73-50 lead. Although they would stay in front the rest of the way there was plenty of drama as fans vented their fury at Durant's summer exit.