Brady loses shirt but not his sense of perspective
Super Bowl MVP thrilled to share win with family
Quarterback Tom Brady had his jersey stolen after leading the New England Patriots to a 34-28 victory over the Atlanta Falcons in Sunday's Super Bowl, but he wore a big smile on Monday as he recounted his team's stunning comeback from a 25-point deficit.
"It took a kind of miraculous effort to do it and I'm just so happy we were able to get it accomplished," Brady said of the greatest comeback in NFL playoff history.
The 39-year-old crowned his legacy as one of the sport's all-time best by walking away with Most Valuable Player honors for a record fourth time in his record fifth Super Bowl triumph.
"Football is an emotional sport," he said. "The lows of not playing great, to the highs of playing great and then at the end it was just a great way to finish.
"To celebrate with my teammates and then to see my family ... it's something I'll never forget."
Brady's only regret was that his game jersey disappeared from his equipment bag. It would have been a treasured souvenir - perhaps for his mother Galynn, who has been battling serious illness the past 18 months.
"I put the jersey in my bag, but when I went to got it later, it was gone," he told a morning-after media conference on Monday.
"It's unfortunate, because that's a nice piece of memorabilia. So if it shows up on eBay, someone let me know and I'll track it down.
"Those are pretty special ones to keep. What can you do? I'll take the championship ring ... that's good enough for me."
The Texas Rangers statewide law enforcement agency was called in to assist Houston police in finding the missing jersey.
Jersey aside, Brady said Sunday was certainly a night to remember.
The game was made even more special because he was able to share it with his mother, an avid fan making her first appearance at one of his games this season.
"It was great, it was great. She's been through a lot, a lot harder than what I went through," said Brady, his voice getting heavy with emotion.
"My dad has been there every step of the way. My parents set such a great example for me."
Brady dedicated the game to his mother.
"All families go through challenging times. She's provided a lot of support and a lot of love, and I was just happy last night to be able to celebrate with her."
Brady walked out of the media conference cradling the trophy he was given as MVP of the game.
"My kids will be happy to see this. They always ask, 'Daddy, what about the trophy?' Now I get to bring one home to them, so it's pretty cool."
Judges' praise
Meanwhile, three New York judges who ruled in the "Deflategate" case differed on the law but unanimously praised Brady and the Patriots on Monday.
They included Denny Chin, one of two judges with the 2nd US Circuit Court of Appeals who decided in a 2-to-1 decision last spring that Brady must serve a four-game suspension for knowingly using deliberately deflated footballs in the 2015 conference championship game.
Chin said in an email to Associated Press that both teams deserved congratulations for a "terrific Super Bowl," but he singled out Brady, saying he "showed once again why he is one of the all-time best".
During oral arguments last March, Chin said evidence of ball tampering was "compelling, if not overwhelming," and there was sufficient cause to support a finding that Brady "knew about it, consented to it and encouraged it".
Circuit Judge Barrington D. Parker who joined Chin in ruling against Brady, congratulated both the Patriots and Falcons for a "very well-played game" and said it rivaled for excitement the 1968 Harvard-Yale game. Parker is a Yale Law School graduate.
US District Judge Richard Berman, who ruled against the NFL in nullifying Brady's suspension until the appeals court reinstated it, congratulated the Patriots in an email to AP as well.
"Last night they showed us all never to quit, everything is possible, and the importance of teamwork," wrote the judge who had required Brady and NFL commissioner Roger Goodell attend proceedings in his courtroom.
Berman also gave a shout-out to the Patriots coach, Bill Belichick.
"Beyond congratulations, I'll say no more about football - until coach Belichick is ready to discuss Supreme Court cases about mandatory arbitration clauses," he said in a lighthearted reference to the kinds of arcane legal subjects many people would find boring.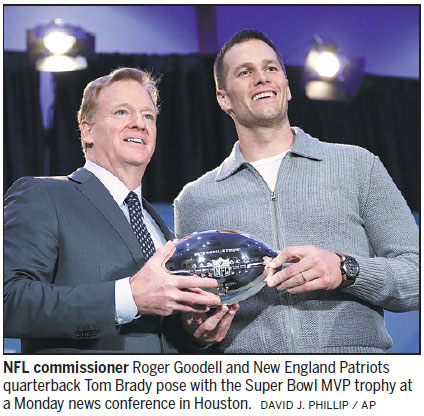 (China Daily 02/08/2017 page23)