Cook resigns as England's test captain after rough 2016
LONDON — Alastair Cook, who led England in more tests than any other captain, resigned from the role on Monday saying it was the right time for him to quit.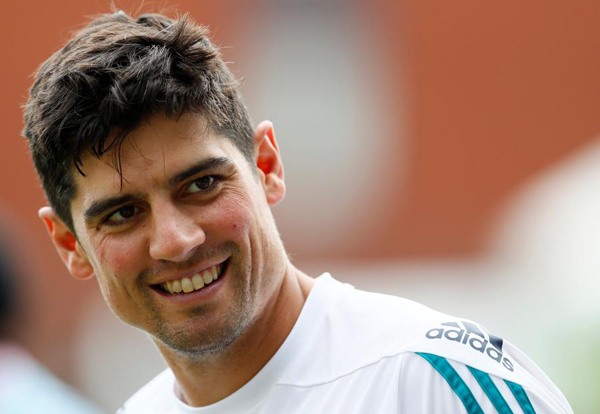 File photo of England's Alastair Cook. [Photo/Agencies]

The 32-year-old Cook, who led his country in 59 tests, had been debating his position since England's chastening 4-0 loss in a test series in India at the end of last year.

Leading batsman Joe Root, long-touted as a future England captain, is the favorite to replace Cook. Director of England Cricket Andrew Straus said he expects to name a new captain before the team heads to the West Indies on Feb. 22.

Strauss said Cook, who also led the one-day side for 69 one-day internationals between 2010 and 2014, another England record, "deserves to be seen as one of our country's great captains".

Cook replaced Strauss as permanent captain in August 2012, helping England to victory in two home Ashes series against Australia, as well as test series in India and South Africa.

"It's been a huge honor to be England captain and to lead the test team over the past five years," Cook, England's highest test run-scorer, said in a statement.

"Stepping down has been an incredibly hard decision but I know this is the correct decision for me and at the right time for the team."England lost eight of its 17 tests in 2016, including a first test defeat to Bangladesh, and the demands of the job looked to have taken its toll on Cook.

"I've had time to reflect after the India series and this weekend I spoke to Colin Graves, the Chairman (of the England and Wales Cricket Board), to explain and offer my resignation," added Cook, who hopes to carry on as a test player. "It's a sad day personally in many ways but I want to thank everyone I've captained."Leading from the front as a determined and stylish opening batsman, Cook, who has scored 11,057 test runs in 140 matches and compiled 30 test centuries, was an unflustered captain who generally erred on the defensive in his tactics.

His two Ashes triumphs in 2013 and 2015 will be fondly remembered by England fans but perhaps his greatest feat came in his early days as skipper when he led England to a test series victory over India in 2012, its first in that country for 27 years.

Cook said at the time that the triumph "was on a par with the Ashes". Former England captain Michael Vaughan went further by saying the accomplishment was "the hardest thing to do in cricket".