Olympian Wu Minxia says farewell to diving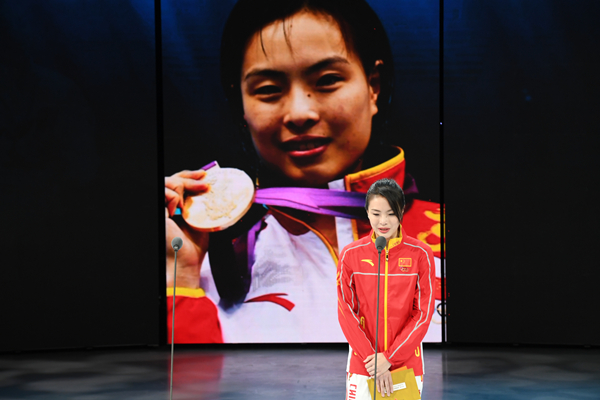 Five-time Olympic champion diver Wu Minxia announces her retirement at the nomination ceremony for the 2016 CCTV Sports Personality Award on Thursday in Beijing. [Phto provided to chinadaily.com.cn]
China's most decorated Olympian Wu Minxia announced her retirement from diving on Thursday, citing huge physical challenges at her age of 31.
Wu, who has won five gold medals at four consecutive Summer Olympic Games since 2004, bid an emotional farewell to the sport, which brought her wealth and fame over the past 18 years, at the nomination ceremony for the 2016 CCTV Sports Personality of the Year Award on Thursday.
"I am actually afraid to see that the day to end my career has come, but here I am," Wu said with a trembling voice during the live broadcasted ceremony.
"For me, it's easier saying that I would continue than making up my mind to quit. But my body doesn't allow me to keep going. I am expecting the life after retirement but I am also afraid of not being able to wear the national uniform again and having no chance to step on the podium again," said Wu.
Wu won a gold medal in the women's synchronized 3-meter springboard with Shi Tingmao at the Rio Olympics in August, becoming the oldest female to win an Olympic diving gold medal.
She is also only one of two athletes in China to win five Olympic gold medals, tied with male gymnast Zou Kai.
Wu and Shi were nominated as candidates for the Best Pair of the Year at the high-profile annual sports award ceremony.
Other renowned nominees included paddler Ma Long and swimmer Sun Yang for Sportsman of the Year, shooter Zhang Mengxue and race walker Liu Hong for Sportswoman of the Year and gold-medal-winning women's volleyball team mentor Lang Ping for Coach of the Year.
The eventual winners of the award will be voted on and announced on Jan 15 at the National Aquatics Center in Beijing.