Chinese women aim to end Korean dominance
With major winner Feng Shanshan blazing the trail, China's female golfers have made significant breakthroughs on the international stage over the past decade.
But even with those advancements, the Hyundai China Ladies Open, which tees off next month in Qingyuan, Guangdong province, is still dominated by Koreans.
Co-sanctioned by China LPGA and KLPGA, the season-ending CLPGA Tour event traditionally features the best Chinese and Korean players - but the latter have won all 10 previous tournaments.
With this year's competition set for Qingyuan's Lion Lake Country Club from Dec 16-18, the homegrown stars are determined to break the jinx.
Feng, the former LPGA rookie of the year (2008) who has won two titles in the US this season and a bronze medal at the Rio Olympics, is spearheading a strong local contingent of rising stars, including Feng Simin, Shi Yuting and Liu Yan.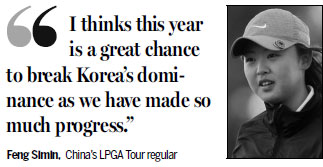 "I cannot wait to compete and challenge for the title," said Feng Simin, who has earned her full card on the LPGA Tour. "I thinks this year is a great chance to break Korea's dominance as we have made so much progress."
The Chinese Golf Association and KLPGA have combined efforts to make the China Ladies Open a proving ground for the world's best and the tournament has produced a number of major winners, including Tseng Ya-ni from Chinese Taipei and South Koreans Shin Ji-yai and 2012 Evian Masters champion Park In-bee.
CGA chief Wang Liwei calls the China Ladies Open "a window to the world's best golf."
"This tournament opens a window to the outside world for Chinese golfers and provides our players with an opportunity to compete with some of the world's best," Wang said.
"The KLPGA is playing an inspirational role in pushing China's women. We have seen a number of our players competing and winning in bigger international tournaments since our cooperation with the Koreans.
"Now, led by Feng Shanshan, a new generation of Chinese players is on the rise. I'm really looking forward to the next 10 years."
In an effort to expose China's female professionals to international-level competition, in 2003 T.K. Pen, president and CEO of Orient Golf International, initiated the Orient Masters (predecessor of CLPGA). In 2006, he set up the China Ladies Open, the season finale for the local tour.
Pen, now honorary vice-president of the Chinese Golf Association, said producing more local champions will attract young players by enhancing the game's appeal.
"We are doing our part to make golf in China one of the most popular games, on both the social and competitive levels." he said.
"I started the Orient Masters Tour to give Chinese women a chance to play in tournaments, earn some money and manage their golf in international competitions.
"Now after years of effort, the China Ladies Open has become more international. It will play a bigger role in developing local talent."
chenxiangfeng@chinadaily.com.cn
(China Daily 11/23/2016 page23)