Further opening-up way forward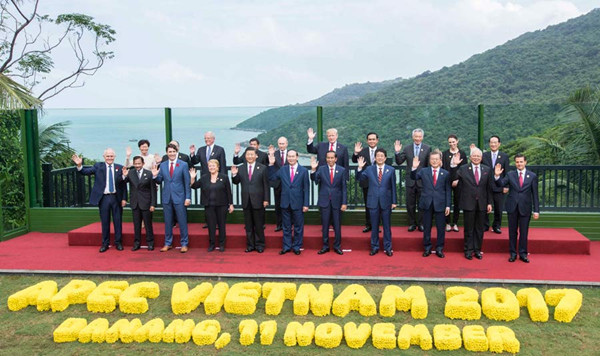 President Xi Jinping (5th L, front) poses for a group photo with other leaders and representatives from APEC member economies at the 25th APEC Economic Leaders' Meeting in Da Nang, Vietnam, Nov 11, 2017. [Photo/Xinhua]
By integrating itself into the global economy, China has realized leapfrog development over the past nearly four decades since the reform and opening-up policy was launched. This may explain why President Xi Jinping reiterated China's adherence to opening-up as a basic State policy at the recent Asia-Pacific Economic Cooperation CEO meeting.
China will not slow its opening-up and will have an even larger market and even more comprehensive development over the next 15 years, Xi said, adding that the country will start a new journey toward building a higher-standard and more open economy.
History shows that opening-up is a viable way for China to promote further domestic reforms and sustainable economic development, and also an important means to achieve new progress in China's modernization drive.
Currently, economic globalization remains an irreversible trend, but it is also undergoing profound changes that demand economies attach more importance to open and inclusive development, mutual benefits and win-win results. In the face of both opportunities and challenges brought by economic globalization, China is well aware that its enhanced economic power and comprehensive national strength mean it must further integrate itself into the world economy which requires it to open its economy more.
Just as Xi stressed at the APEC CEO meeting, China will work together with other countries to create new drivers for common development by promoting the liberalization and facilitation of trade and investment, implementing a system of pre-establishment national treatment plus a negative list across the board, and concluding free trade agreements and investment treaties among other policy measures.
China's active efforts to promote a new trend of economic globalization and the building of a higher-standard open economy will inject new impetus into its efforts to realize the Chinese Dream and build a community of shared future for all mankind.
- PEOPLE'S DAILY