Ballast for long-term growth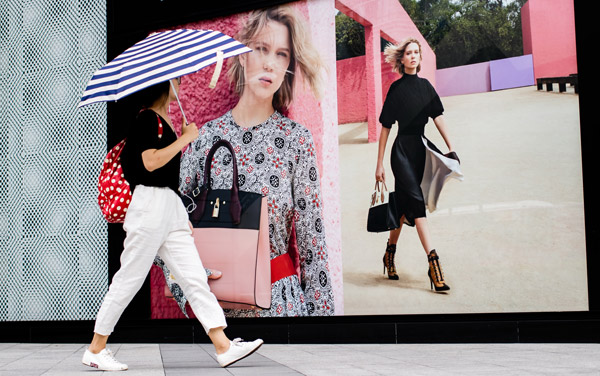 A woman walks past a Louis Vuitton advertisement in Fuzhou, capital of East China's Fujian province. [Photo by Chen Hao/For China Daily]
Premier Li Keqiang commented on the important role consumption plays in driving China's economic growth at a recent meeting with economic experts and entrepreneurs.
In the context of the country's continuous efforts to advance economic structural adjustments, the growth in per capita income and the government's measures to boost domestic consumption have played a key role in promoting national economic development.
The ever-improving social security, pension and healthcare networks provided by the government have increased people's consumption capabilities and boosted their willingness to buy. That can to some extent explain why in the first three quarters of this year, consumption contributed as much as 64.5 percent to China's economic growth, and services replaced the first and secondary sectors to become the leading engine for the country's economic growth.
China's economy managed to maintain fast growth in the first decade of the 21st century under its export-led growth model. However, China's major export markets, the United States and European countries, have suffered lingering economic sluggishness since the 2008 global financial crisis, which has meant China has not been able to depend on its past export-driven development model and it has had to turn to new drivers for its economic growth.
Investment, especially in infrastructure and real estate, proved effective in boosting its economic growth any time it decelerated in the past, but the colossal debt entailed by such investment and the attendant financial risks have made decision-makers wary of going down that path again.
With its huge population, China is the world's largest market. It can release huge potential for its economic growth by tapping its immense consumption demand.
-IFENG.COM