Asia-Pacific's role vital to free trade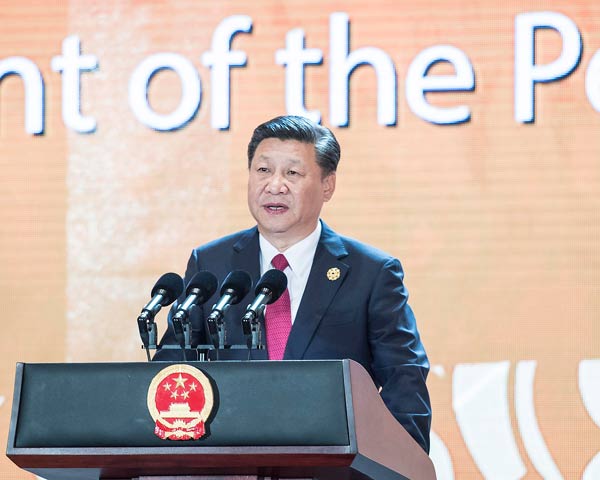 Chinese President Xi Jinping delivers a keynote speech at the Asia-Pacific Economic Cooperation (APEC) CEO Summit in Vietnam's central city of Da Nang November 10 2017. [Photo/Xinhua]
The Asia-Pacific region is expected to continue driving world economic growth and promoting free trade at a time when many countries are grappling to find ways to push forward globalization. Accounting for about 60 percent of the global gross domestic product, the 21-member Asia-Pacific Economic Cooperation makes up nearly half of the world's trade and 40 percent of its population.
The two-day 25th APEC Economic Leaders' Meeting started on Friday in Da Nang, Vietnam, at a time when globalization faces many challenges. And the meeting has brought together APEC leaders to devise ways to overcome these challenges.
Since the beginning of this year, against the backdrop of a series of "black swan" events-such as Brexit-anti-globalization sentiments and protectionism have been on the rise in many parts of the world, frustrating attempts to narrow the divides brought about by globalization. Black swan events are those that take us by surprise, have major consequences and are later often rationalized, wrongly though, with the benefit of hindsight.
To restore the world's confidence in globalization, China has strongly supported the building of a Free Trade Area of the Asia-Pacific, because as a strategic initiative it is critical for the long-term prosperity of the region and the world.
Globalization has promoted trade and facilitated tangible growth in the Asia-Pacific over the past several decades, lifting tens of millions of people out of poverty and turning the region into a growth engine for the global economy.
But while underlining the achievements of globalization, the international community should be aware that it could further widen the global wealth gap if handled inappropriately. So the world leaders should seek to re-balance globalization, in order to allow people from across the globe to benefit from common development. And a transparent, non-discriminative, open and inclusive multilateral trade regime will definitely help accelerate this process.
To this end, China has made a major push by proposing the Belt and Road Initiative, an inclusive cooperation platform to improve infrastructure connectivity, and thus trade links, among the countries involved.
Aiming to build an open economy and promote free and inclusive trade while opposing all forms of protectionism, the initiative matches the development strategies of APEC members and, as part of President Xi Jinping's dream of building a community of shared future for mankind, will help restore the world's confidence in globalization at a time when free trade is encountering challenges.
APEC was born in 1989 when globalization and regional economic integrity were gaining momentum. Given the challenges and setbacks globalization faces today, this is the time for this dynamic engine to remind countries across the world how important it is to safeguard the multilateral trade regime and further open up their economies.
--XINHUA NEWS AGENCY