Timely e-commerce cleanup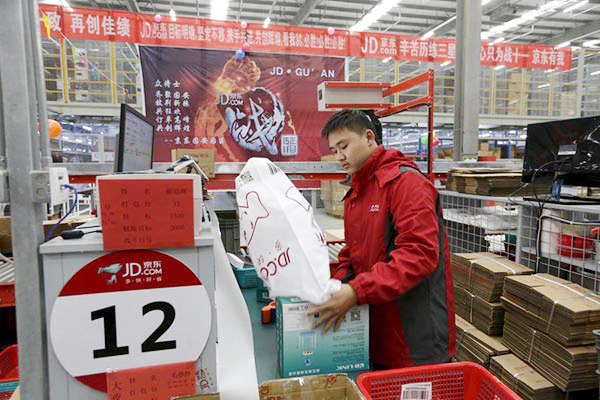 An employee works at a JD.com logistic centre in Langfang, Hebei province.[Photo/Agencies]
At its recent session, the National People's Congress, the top legislature, passed a revised antitrust competition law, which stipulates that retailers will be fined up to 2 million yuan ($301,500) if they delete adverse online comments about their quality or services, or fabricate false sales figures.
This is a timely move to stop sales fraud by online retailers as Singles Day, the annual e-shopping carnival in China held on Nov 11, is approaching. Some e-tailers take advantage of the shopping festival to make profits by cheating consumers.
Consumers rely on the online comments to select their purchases and who they buy them from. However, this practice is sometimes taken advantage of by some online sellers. Deleting negative reviews and boosting the credit rankings for e-retailers has even become a gray business. Such kind of dishonesty, if not effectively addressed, seriously compromises consumers' right to know and also harms the interests of honest e-tailers. So the newly revised antitrust competition law that stipulates harsher punishments for such malpractices is expected to better safeguard consumers' interests and promote the healthy development of the country's e-commerce sector.
However, to draw up a law is one thing, to promote its enforcement to the letter is another. The relevant departments have warned of severe penalties against dishonest behavior by online retailers in the past, but the lack of any strict implementation has meant there is no deterrent against such misdeeds.
The lack of due honesty among e-tailers has been a long-term, complicated and arduous issue, and its solution hinges on the authorities' firmer determination to put a stop to it. A fine as high as 2 million yuan against violators is an unbearable price for many e-shops, but only by enforcing it will it restore the dented public confidence in e-shopping.
-YANZHAO METROPOLIS DAILY