Law to maintain anthem's dignity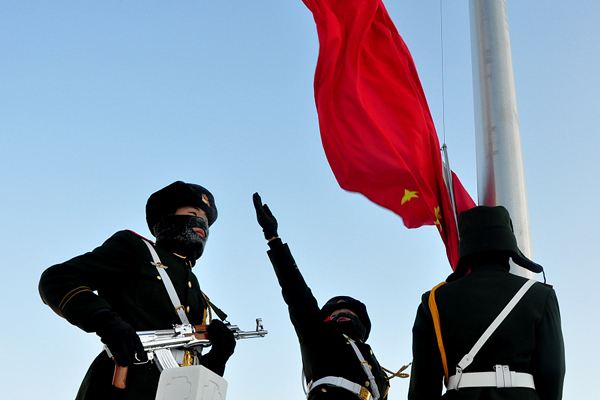 A national flag raising ceremony is held in Great Hinggan Mountains, Northeast China's Heilongjiang province, on Jan 2, 2016. [Photo/VCG]
According to a draft amendment to the Criminal Law that was submitted to the top legislature for review on Tuesday, anyone who disrespects the national anthem faces imprisonment of up to three years.
To be specific, those who maliciously modify the lyrics, or play or sing the national anthem in a distorted or derogative way in public, or with other serious disrespectful behavior, will be held criminally accountable and punished.
China's Constitution grants its national anthem the same status as the national flag and emblem and extends to it the same legal protection. The laws covering the national flag and emblem were passed and came into force in 1990 and 1991, respectively. However, a national anthem law remained conspicuous by its absence until one was approved by the top legislature on Sept 1. The National Anthem Law is a necessary supplement to the Criminal Law, which lacks any rules on punishing those who mock or insult the nation's anthem. It means the national anthem joins the national flag and emblem in being protected by the law.
Legislation on disrespecting the national anthem should also be a priority for the Hong Kong and Macao special administrative regions. Despite the national flag and emblem laws being applicable to the two SARs according to their basic laws, practical and viable legal clauses to bring those insulting the national anthem to account are not in place and need to be introduced as a matter of urgency to protect the dignity and unity of the nation.
China's national anthem, March of the Volunteers, was once viewed as a clarion call for the liberation of the Chinese nation and is still regarded as rousing the patriotism of the Chinese people. Any disrespect shown to the nation's anthem is equivalent to insulting the nation and should be punished according to the law.
--BEIJING YOUTH DAILY