Importance of care for elderly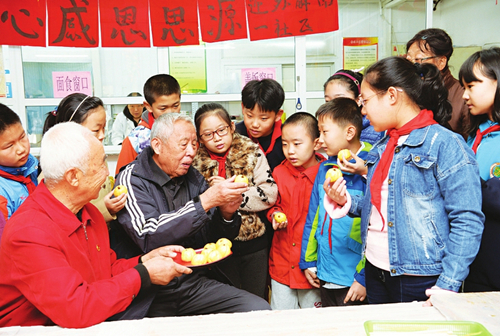 Senior residents celebrate Chongyang Festival with students of Dananguan Primary School in Taiyuan, Shanxi province, Oct 27. [Photo/Shanxi Daily]
The authorities are accelerating the building of an all-inclusive social security network and paying more attention to the psychological needs of the elderly, as the country prepares to meet the challenges of an aging society.
China has set up the world's largest social security network covering more than 90 percent of its population. Along with the ever-growing basic pension provided retirees, it has also advanced reform of its dual-track pension system that was originally designed for civil servants and other groups.
This, together with the family doctors' contracted services for the elderly provided by some local governments, as well as the paid leave some provinces offer employees who are an only child should one of their parents be admitted to hospital, is an indication of the greater attention being paid to the well-being of senior citizens.
Alongside the establishment of a material safety net, the country is also making efforts to make the aged feel psychologically secure. Such efforts aim to see no recurrence of the scenario that when a parent falls ill, the child is only heard on the phone, a situation elderly parents have often encountered, especially those whose children work far away. A phone call cannot fully eliminate the loneliness of the elderly, especially when they are sick.
To ensure the elderly live decent lives in their remaining years is an urgent task the country has to address now that it has established a basic pension network. Given that the aging society has come at a faster-than-expected speed in China, the provision of public services for senior citizens should be expedited to meet their needs.
At the same time, building a policy system and social environment in which the elderly get enough care, filial piety and respect is not only the direction the authorities have pointed out, it also serves as a new growth point for the national economy.
-People's Daily