Xi's thought a practical plan for future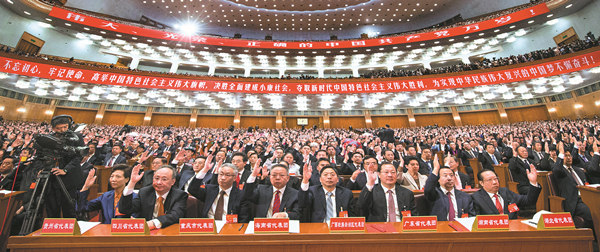 Delegatesto the 19th CPC National Congressvote to amend the Party Constitution in the Great Hall of the People in Beijing on Tuesday before the congress adjourned. XU JINGXING / CHINA DAILY
The "Thought on Socialism with Chinese Characteristics for a New Era", which General Secretary Xi Jinping unveiled in his report to the 19th National Congress of the Communist Party of China on Oct 18, was enshrined in the Party's Constitution on Oct 24.
"Xi Jinping Thought on Socialism with Chinese Characteristics for a New Era" reflects China's unique political democracy.
The Party has solicited opinions of Party members, non-communist parties and experts on the drafts of Xi's report at the Party Congress, as well as the Party Constitution's revision.
Xi's thought enriches Marxism-Leninism, Mao Zedong Thought, Deng Xiaoping Theory, the Theory of Three Represents and the Scientific Outlook on Development, and is the guideline to realize the Chinese Dream of national rejuvenation.
Based on China's real situation and conditions, the thought points out two historic shifts in Chinese society: that socialism with Chinese characteristics has entered a new era and that the country's principal contradiction has evolved to be one between "unbalanced and inadequate development and the people's ever-growing needs for a better life".
In the "New Era", China has seen the promotion of comprehensive innovation for economic development, during which China has made remarkable progress in its efforts to realize common prosperity, and thus moved toward global center stage to realize national rejuvenation.
Explaining the two-step approach to build China into a great modern socialist country, Xi said the country will basically realize socialist modernization between 2020 and 2035, and from 2035 the Chinese people have to "work hard for a further 15 years" to develop China into a great modern socialist country that is prosperous, strong, democratic, culturally advanced, harmonious and beautiful. In other words, China will become a country with great talents and culture, a powerful military, innovative manufacturing, cutting-edge science and technology, and excellent product quality, and a powerhouse in terms of cybertechnology, transportation, trade, sports and education.
Given the fact that the number of poor people in rural areas had decreased to about 43 million by last year, it is expected that a moderately prosperous society in an all-round way will be built by 2020, and the Chinese people will achieve common prosperity by 2050.
China has made huge contributions to the world in terms of economy, innovation, culture and green technology. It is now the world's second-largest economy with the highest foreign exchange reserves, and had the second-highest volumes of imports and exports in 2016.
Since the 18th Party Congress in 2012, China has been fostering comprehensive innovation to meet the diverse needs of the people, but still faces the problems of unbalanced regional and rural-urban development, income inequality, unbalanced investment and consumption, and environmental pollution. To be sure, China's productive forces have significantly improved, and it occupies top ranking in terms of manufacturing output. But despite the advancement of its production forces, China still cannot meet all the people's needs for various products and services.
However, the Party is sober-minded to say China is still the largest developing country and in the primary stage of socialism.
The Party has an overall and objective understanding of China's situation, and it has made a practical plan to address that situation. And the plan will work to its full potential to boost China's development only under the Party's strong leadership.
The author is director of the Center for China Studies at Tsinghua University.