Economy defies doomsayers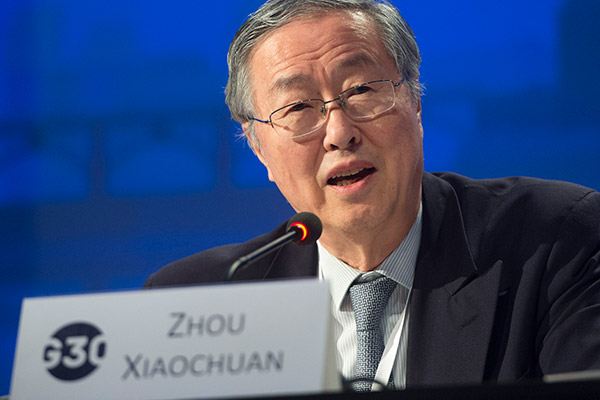 Zhou Xiaochuan, governor of the People's Bank of China. [Photo provided to China Daily]
China's economic growth looks set to accelerate this year, the first time in seven years, after it registered a 6.8 percent year-on-year GDP growth in the third quarter. Given that growth trend has been achieved against the backdrop of both domestic structural reforms and the still fragile global economic recovery, it showcases the exceptional resilience of the world's second-largest economy.
China's GDP growth in the first three quarters has been in stark contrast to the scenario depicted by many doomsayers late last year. Even more reassuring, while a variety of economic indicators are showing signs of steady growth, the country has also made much headway in carrying out the tough task of economic restructuring.
Industrial output growth, for example, increased to 6.7 percent in the first three quarters from 6 percent a year ago, with high-tech manufacturing and equipment-making industries, which are the backbone of a country's industrial development, showing brisk performance. The growth in their output was 13.4 percent and 11.6 percent, respectively, 6.7 percentage points and 4.9 percentage points higher than that of overall industrial output.
Another case in point is retail sales growth, which remained strong at 10.4 percent in the January-September period. Although that was unchanged compared with a year ago, online sales increased by 34.2 percent, 8.1 percentage points higher than a year ago, indicating the bigger role played by this new driving force for consumption.
In terms of the supply-side structural reform, China has continued to reduce its leverage levels and the country's investment in environmental protection, public facility management and agriculture all registered much higher growth than overall investment expansion.
Such encouraging fundamentals have been achieved thanks to the government striving for innovative, coordinated, green, open and shared development.
As Xi Jinping, general secretary of the CPC Central Committee, said on Wednesday, while expansion of economic scale remains important, top priority must be given to the quality of growth.
It is a focus that will ensure sustainable long-term growth.