Guidelines that can help build a genuinely global community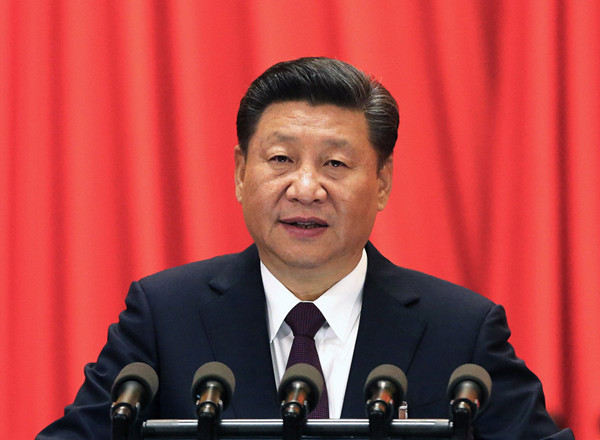 Xi Jinping delivers a report to the 19th CPC National Congress at the Great Hall of the People in Beijing, Oct 18, 2017. [Photo by Xu Jingxing/chinadaily.com.cn]
In his report to the 19th National Congress of the Communist Party of China on Wednesday, General Secretary Xi Jinping said that China will always try to be a builder of world peace, a contributor to global development and a guardian of the international order.
He also said that while China will never give up the interest and benefit it deserves to get, it will never pursue its own development at the expense of other countries.
He admonished that no country or individual should expect China to swallow anything that undermines its own interests. He also said that China's defense policy is defensive in nature, and it will never pose a threat to any country, and China will never seek hegemony or follow an expansionist policy no matter how strong the country becomes.
These remarks are not only the guidelines on which China's diplomacy will be based, but also serve to explicitly tell the world what role China has been playing and what role it intends to play.
His remarks are by no means only rhetoric.
Look at the aid in various forms China has offered to countries in need. Look at the diplomatic efforts China has made in helping to settle conflicts and disputes worldwide. Look at the Belt and Road Initiative that is realizing common development with the countries along the ancient Silk Road routes spanning Asia, Africa and Europe.
By getting an increasing number of countries involved in the initiative, China has not only given substance to Xi's words, it has also innovated a development model of cooperation for mutual benefits.
That explains why China has called for countries to build a community of shared destiny for all mankind, which instead of being a zero-sum game in which the gains of one are offset by the losses of others, is a one-sum game in which everyone contributes what they can for the benefits of all.
As Xi said in his report, the Chinese people's dream of a better life is of the same nature as that of people around the world.
And since realizing that global dream requires a peaceful and stable environment worldwide, China remains committed to its independent foreign policy of peace, steadfastedly upholds fairness and justice in international affairs, and opposes any country imposing its will on other countries or interfering in the internal affairs of other countries, gainsaying the practice of the strong bullying the weak.
By so saying and so doing, China not only respects the right of the people of all countries to choose their own path of development, it is also using its growing influence and power in a responsible way and demonstrating its resolve to uphold the equality of all countries in international relations.
China is still a developing country, but it will continue to contribute what it can to the building of a better world and offer new ideas and concepts in pursuit of this goal.
This is because the Chinese leadership well knows that China's peace and prosperity will not be sustainable unless the world is also peaceful and stable.
This explains why China advocates inclusiveness and mutual learning and promotes dialogue among different countries and cultures, and why China will continue to strive to guide countries to make concerted efforts to build a community of shared destiny.
As Xi's speech showed, the world is entering a new era. It is one in which China has the resolve, confidence and capability to be a banner bearer for a new type of relations.
This has ruffled some feathers, and will no doubt continue to ruffle them, but the fact that some still cling desperately to an outdated mindset will not stop the hands of the clock from turning.
Times have changed and in the face of the common non-traditional threats such as climate change and terrorism, the pursuit of a community of shared destiny for all mankind conforms to the trends of the times.
By adhering to the principles of amity, sincerity, mutual benefit and inclusiveness, China will strive to work with others to realize the common aspiration of the people of all countries for peace, development, cooperation and progress.