New diplomatic approach is practical and cosmopolitan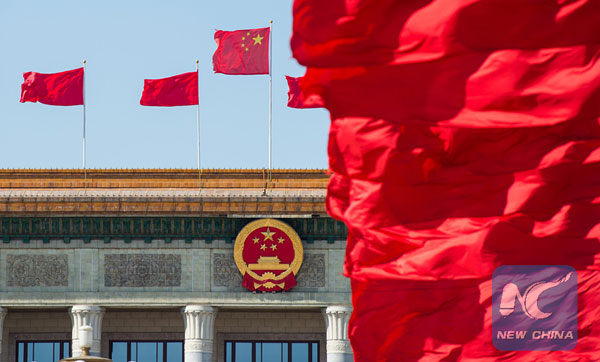 Red flags on the Tian'anmen Square and atop the Great Hall of the People in Beijing. [Photo/Xinhua]
An amendment to the constitution of the Communist Party of China incorporating the latest concepts, theories and strategies of the leadership is to be submitted for review to the Party's 19th National Congress, which begins on Wednesday.
Among these developments are its new diplomatic thinking and approach.
Instead of viewing relations as a zero-sum game, the diplomatic ideas and proposals introduced by President Xi Jinping encourage countries to build a community of shared destiny based on win-win cooperation and the pursuit of inclusive and common development.
Xi first proposed countries work together to forge such a community during a visit to Russia in March 2013. Since then, he has expounded on the concept on more than 100 occasions both at home and abroad.
This new vision, based on an insightful grasp of the changing international situation and the trends of the times, embodies Chinese wisdom and its perspectives for reforming and improving the global governance system.
With such a goal, it is natural that China should seek to develop friendly and reciprocal ties with countries around the world, especially those on its periphery, and natural that it should adhere to the principles of amity, sincerity, mutual benefit and inclusiveness in its relations with other countries.
Thus, despite the territorial disputes that exist between China and some members of the regional organization, relations with the Association of Southeast Asian Nations are in good shape, as shown by their recent agreement on the framework for a code of conduct for the South China Sea, which marks a breakthrough in their efforts to resolve the disputes.
At the same time, China's improved relationship with the Philippines has set a good example for countries on how to properly handle their differences.
No matter how the international situation changes, and despite some still trying to point an accusing finger at China for causing frictions in the region, citing its strained ties with its neighbors Japan and the Republic of Korea, China remains committed to peace and common prosperity.
However, no one should misjudge or underestimate China's resolve to defend its territorial and security interests.
China's vision of a community of shared destiny means it will continue to seek a new type of major-country relations and it will endeavor to establish a fairer global governance system and promote common security.
Its goal is not to replace the existing order but to play a more proactive role in guiding countries toward the realization of its vision for an international community that is not at odds with one another, and instead acts on the awareness that we all live on the same planet that is our shared and only home.