Milan displays its worth to Chinese investors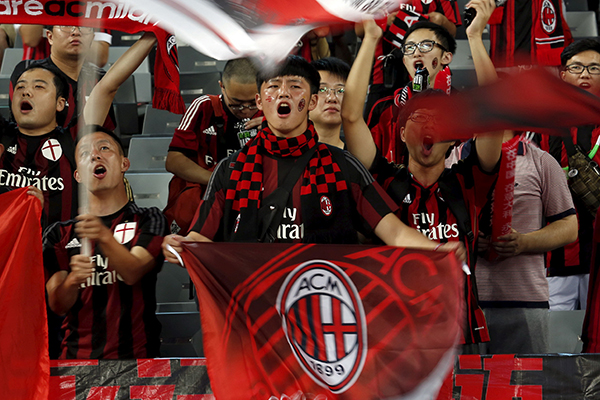 Chinese fans of the AC Milan soccer team sing during a friendly match in Shenzhen, Guangdong province. [Photo/Agencies]
In our globalized world, apparently disconnected events can hide common and surprisingly important traits. This was the case with Sunday's football match between Inter FC and Milan AC, and the upcoming 19th National Congress of the Communist Party of China.
It was a special match, for Italy and China alike. For the first time in 109 years, the Milan derby-one of the most prestigious inter-city confrontations in global sports, as the two teams together have won more European Champions titles than all London teams combined-was played by two Chinese-owned sides. The motivations that led retail group Suning and real estate tycoon Li Yonghong to invest more than $ 1 billion into the clubs may differ, but they both expect soccer and sports more broadly to play an increasingly important role in the Chinese Dream and in the Belt and Road Initiative.
A soccer enthusiast himself, President Xi Jinping's grand vision sees China attaining national greatness in many different ways: a country where high value-added services, such as entertainment, contribute to economic growth and sustainable development, and which is capable of peacefully projecting its power and influence through success in sports and people-to-people exchanges. As the world's most popular pastime, European football is uniquely positioned to attract the interest of the Chinese government and businesses alike. The enthusiasm, the dedication and the vibrancy of sport can also be an instrument of connectivity along the new "Silk Road".
The links between Milan and China, moreover, extend well beyond the green pitch of the San Siro stadium. While other European cities host larger Chinese communities, and other Italian ones such as Florence or Venice attract larger numbers of Chinese tourists, the economic capital of Italy has enticed investors and entrepreneurs. The list is long and multi-faceted. And when it comes to "free floating" bike-sharing, Milan is the only European city offering services by both Mobike and Ofo.
In the aftermath of Brexit, it is hard not to see the outline of a vision that assigns Milan a crucial role in China's dense (and sometime tense) relationship with Europe. The city offers China what it still lacks-not so much next-generation innovation, as much as the ability to translate centuries-old manufacturing and design prowess into premium goods and long-lasting competitiveness, for instance in furniture-making.
That is not to forget that, as the powerful magnet of the eurozone's second-largest industrial powerhouse, Milan is also in the vanguard of all the technologies of Industry 4.0. Italy more generally has proven open to Chinese investment and is supportive of the China-proposed Belt and Road Initiative, as shown by visits by President Sergio Mattarella in February and Premier Paolo Gentiloni in May, to attend the Belt and Road Forum for International Cooperation.
Will this pragmatic collaboration mature into win-win cooperation? A lot is at stake that goes beyond purely economic and financial considerations. If Chinese investors flourish in a sophisticated business location such as Milan, they can dispel suspicions that they are only interested in making a fast buck. If Milan and the Milanese open their arms to the Chinese, without losing sight of their local identity and long-term interests, the northern Italian city can certainly further strengthen its ambitions to be a genuine global city on the Western edge of the Belt and Road Initiative. At a minimum, the warm applause that welcomed the Chinese football tycoons at San Siro on Sunday suggest that we are heading in the right direction-sharing the passion for the beautiful game can indeed be the basis for a friendship of mutual benefit.
The author is chief economist at NOMISMA, Bologna, Italy.