Grand vision for connectivity revives the Silk Road spirit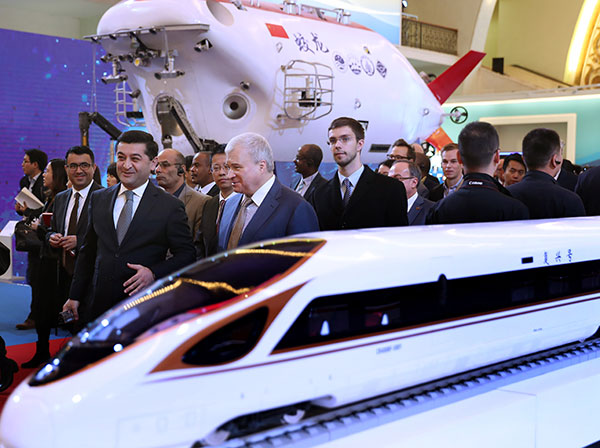 A group of foreign diplomats and foreign experts working in China visit an exhibition in Beijing on 13,Oct,2017 showcasing China's achievements over the past five years. ZOU HONG/CHINA DAILY
According to a communiqué issued after the Seventh Plenary Session of the 18th Central Committee of the Communist Party of China, which concluded in Beijing on Saturday, the Party's constitution will be amended to represent the new governance concepts, thoughts and strategies of the CPC Central Committee.
Among these is its vision for innovative, coordinated, green, open and shared development with the rest of the world.
It is almost 10 years since the onset of the global financial crisis and the world economy continues to reel from its fallout: The growth prospects for many countries remain gloomy, the wealth gaps between the rich and poor are widening, and protectionism and anti-globalization are on the rise.
Against this backdrop, China has become the ballast for global economic stability and a champion of openness and shared prosperity.
It is therefore natural that countries, especially emerging economies and those hit hard by the slowdown, should look to China for ways to escape the doldrums.
One of the solutions China has offered is the Belt and Road Initiative, which aims to strengthen connectivity in policy, infrastructure, trade and people-to-people exchanges between countries along the ancient Silk Road routes that spanned Asia, Europe and Africa.
This grand vision of global affinity was proposed by President Xi Jinping in 2013, based on the recognition that all countries are interdependent and form a close-knit community of interwoven destinies and interests.
It is an ambitious undertaking that seeks to realize the common aspiration for greater understanding between peoples, the collective yearning for peace and stability and the communal pursuit of the shared dream for a better life.
The Initiative has been well supported since it was rolled out in the last couple of years. So far more than 100 countries and international organizations have embraced the Initiative.
This revival of the Silk Road spirit emphasizes fairness and the sharing of development opportunities, and for that purpose, China is advocating and striving for a global economic governance system that is rules-based, transparent and non-discriminatory, with greater representation for emerging and developing economies.
And since development cannot be advanced without security, China is also advocating that countries work together for common security and make concerted efforts to address the political and social roots of conflicts.
There have been setbacks to economic globalization and regional integration efforts in recent years, but cooperation for peaceful development remains the global trend and endeavor. As a longtime driver and promoter of this trend, China will continue to seek greater cooperation for shared development and global stability.