Safeguarding the people's right to health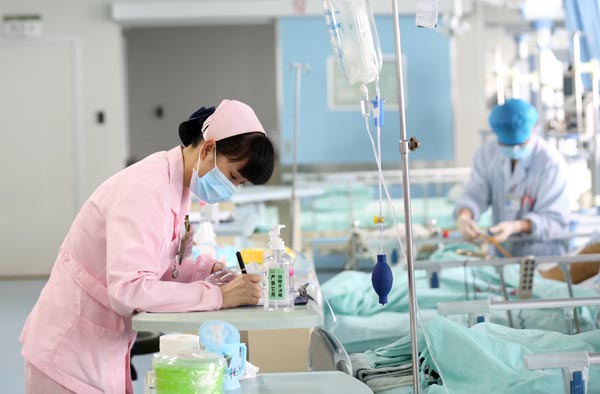 A nurse records patients' conditions at an intensive care unit in a hospital in Rong'an county, Guangxi Zhuang autonomous region, May 12, 2017. [Photo/Asianewsphoto.com]
Editor's note: The Information Office of the State Council published a whitepaper on the development of China's public health cause. The following are excerpts of comments by Chinese human rights and public health researchers.
A healthcare model for developing countries
China has always attached significance to protecting people's health and taken concrete measures to make public health and hygiene an integral part of the political, economic and social development of the country, blazing a trail for the development of public health according to existing national conditions. This has been praised by the World Health Organization as a model for developing countries.
Since the 18th National Congress of the Communist Party of China in late 2012, the Chinese government has made people's physical well-being an important part of building a moderately well-off society.
China has always ensured its policies suit the national conditions, and basic public health, grassroots healthcare and disease prevention have been the crux of the country's public health work.
China has basically built a public health policy system corresponding to its social and economic development, and found its own solutions for medical care reform, a difficult problem even in developed countries. Now China is demonstrating more confidence, orderliness and preparedness in safeguarding people's right to health.
Zhou Li, a researcher at the Human Rights Center of Southwest University of Political Science and Law
World's largest basic medical security net
President Xi Jinping stressed at the national health and hygiene meeting held in Beijing last year that China should always make sure the basic public health and hygiene cause develops in the people's interests, and relevant institutions should be constantly improved to let the people enjoy fair, systematic and continuous disease prevention, treatment, rehabilitation and health promotion services.
China has built the world's largest basic medical security net. The medical care insurance for severe diseases effectively prevents families falling into poverty because of illness. By the end of 2015, the insurance covered all those included in the national medical care security system.
Those with childhood leukemia, childhood congenital heart diseases, esophagus cancer, gastric cancer, colon cancer, rectal cancer and end-stage renal disease all receive government subsidies to pay for their treatments.
Man Hongjie, a researcher at the Human Rights Center of Shandong University
Striking a balance between fairness and efficiency
Pursuing the highest level of health is basic human right. The average life expectancy of Chinese residents was 76.5 years in 2016, compared with 35 in 1949. China's infant mortality rate has fallen from 50.2 per 1,000 in 1991 to 7.5 per 1,000 last year; and the maternal mortality rate has dropped from 80 per 100,000 to 19.9 per 100,000 over the same period.
China's medical care system reform has always relied on the government's leadership, coordination of multiple departments, and the participation of the whole society.
The government pays special attention to disease prevention and the provision of 46 free public health services, including healthcare for pregnant women, the health management of children and senior citizens, chronic tuberculosis and treatment for severe psychosis.
It also attaches great importance to striking a balance between fairness and efficiency in the construction of a nationwide healthcare network. The government encourages the market to play decisive roles in allocation of resources, and individual citizens to assume their responsibilities, so as to avoid the trap of "welfare society".
Liu Yuanli, a researcher at the Public Health School of Peking Union Medical College
15-year action plan for a healthy China released
China has made public health a strategic priority in national development since the 18th National Congress of the CPC in 2012.
Last year, the government published a guideline for the development of public health. Healthy China 2030 is a national action plan for health that covers such things as the medical industry, food and drug safety and management of the environment.
China has founded the world's largest basic medical care security network covering nearly 1.4 billion people, and the government regards the basic medical care and public healthcare institutions as public products to ensure all residents enjoy basic medical care.
China is committed to making new contributions to the sustainable development of human society by ensuring the public health of nearly one-fifth of the global population.
Fu Wei, a researcher at the Development and Research Center of National Health and Family Planning Commission