Digital transformation has made major impact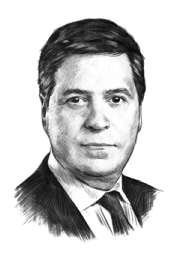 Alain Crozier, CEO of Microsoft Greater China

Editor's Note: The Communist Party of China will hold its 19th National Congress on Oct 18. In the runup to the meeting, China Daily interviewed business leaders from major multinational companies for their views on economic developments here and the country's global leadership role.
What do you feel has been China's biggest achievement during the past five years and what is its most notable change?
It has to be the way that China has embraced a digital transformation like few other nations in the world. The fourth industrial revolution, which everyone talked about, has arrived. This has come about through cloud computing, edge devices and big data.
It is changing how people in China live and work, and it is injecting new energy into all walks of life. It is beginning to transform businesses, helping them empower their employees, engage customers, optimize operations and (change) both the products they create and sell. In fact, their business models.
This did not occur by accident. China set a clear course with policies to support the transformation of the economy from one fueled by manufacturing and investment to one driven by technology and innovation. Those decisions are beginning to bear fruit.
As a Fortune 500 company, which sectors do you think offer the most opportunities for development?
China is one of the most dynamic places for economic growth and innovation in the world. The entire country is going through a digital transformation, driven by technology and innovation. So, it is no surprise that digital transformation tops the agenda among business leaders across the country.
In meetings with businesses and government leaders, it is clear that organizations are accelerating their digital transformation journeys. They are asking us how they can (turn) their data into growth assets and how they can change their business models to align with new market realities.
In a survey Microsoft commissioned of about 1,500 business decision-makers across the Asia-Pacific, we found that digital transformation was already a priority for most organizations in China. Up to 87 percent agree the key to future growth was to think and act like a digital business.
What are your expectations for the upcoming 19th National Congress of the Communist Party of China and what key issues will you be watching for?
At Microsoft, we are naturally very interested in the policies affecting the technology industry. Will there be policies, directives and guidelines like "Internet Plus" and the Next Generation Artificial Intelligence Development Plan? If so, what sort of direction will they provide for the road ahead?
Microsoft is really a partner-centric company-more than 1,000 Chinese companies are building solutions and services based on our cloud platform today-and the fortunes and future direction of these technology enterprises will be affected by government policies.
So, we hope to continue to learn about and align with these policies in ways which lead to success for everyone, as we have done for many years.
What factors will boost China's growth this year and in 2018, and what are the challenges facing China's economy?
Transforming one of the largest economies in the world is certainly a challenge. But a successful response will provide enormous opportunities for China and for the world. Innovation-driven technologies and applications are disrupting traditional industries such as never before.
Big data, cloud services, IoT (the internet of things), and AI (artificial intelligence) will breathe new life into every industry and sector to help transform the economy.
Microsoft has been (helping to) transform China for more than 20 years and will remain a partner with the country through the years ahead. We will provide technologies, platforms, services and support to fuel innovation and entrepreneurship.
What opportunities will the Belt and Road Initiative throw up for China and the rest of the world?
Chinese companies are ahead of the curve in digital transformation and they will help drive the country's development, as well as the development of partners along the Belt and Road routes. The partnerships in technology and innovation, which will be built between China and other economies, will provide a good foundation for multilateral cooperation.
Mobike (Technology Co Ltd) is a good example of what we can see happening as Chinese companies grow. They are using intelligent cloud technologies to reinvent transportation inside the country and now around the world with smart bike sharing.
They use Microsoft's Azure intelligent cloud platform, IoT and predictive analytics to understand where their bikes are, and where they are needed. This innovative solution helps solve problems in congested cities and can help build the reputation of Chinese companies more broadly.
What are the most innovative trends or products in China?
AI (artificial intelligence) is the most innovative thing happing in China today. Because AI is still in its infancy, it is just starting to be taken seriously by companies around the world. China, however, has been ahead of the game in AI research in some respects. In applying AI, the country has an advantage.
Naturally, Microsoft has been working on artificial intelligence for many years. We conduct a great deal of "breakthrough" AI research in China, where we have our largest research and development operation outside the US.