Good conditions to finish tasks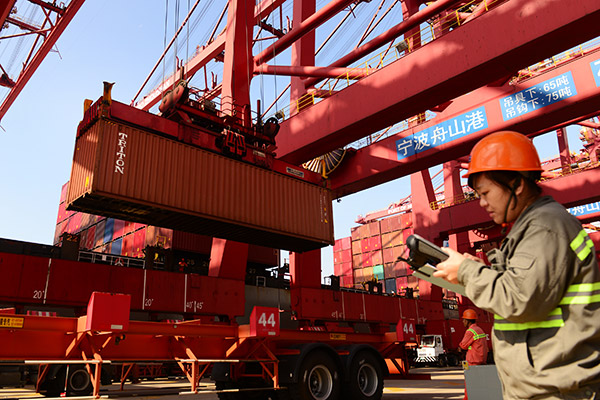 A worker monitors container operation at Zhoushan port in Ningbo, Zhejiang province. [Photo/China Daily]
With the Chinese economy expanding steadily in the first two quarters, the International Monetary Fund has raised its forecast for the country's GDP growth for the year to 6.8 percent, up from its prediction of 6.7 percent in April.
The adjustment, which came on Tuesday, coincided with the sanguine view of Ning Jizhe, head of the National Bureau of Statistics, that the country will certainly meet its growth target for the year, which is "around 6.5 percent".
The consensus among mainstream domestic and international analysts will instill confidence that the world's second-largest economy can continue to help anchor the global economic recovery.
That said, the Chinese economy, as the IMF pointed out in its latest World Economic Outlook report, does face some serious challenges, such as potential financial risks caused by the piling up of debts.
But the Chinese authorities are staying sober-minded and are taking pains to tame the scale of debts. For example, the country has reduced the debt ratio of its major industrial enterprises, in terms of asset-liability ratio, by 0.7 of a percentage point in the first eight months compared with a year ago.
Still, it remains an urgent task for China to control financial risks. On the one hand, it needs to better allocate its financial resources to support the growth of the real economy, especially to some key emerging industries, so as to lay a solid ground for future sustainable growth.
On the other hand, it must improve financial oversight to prevent liquidity from flowing into already white-hot sectors, such as the property market, and accelerate corporate reform to squeeze out those insolvent "zombie enterprises" to prevent corporate debts from ballooning.
What is reassuring is that the country's stable growth prospects, as the IMF forecast confirms, have created more favorable conditions for carrying out those tasks.