China – A place where development is willed into solid reality
China, a land of incessant development, has been continuously reaching the milestones deemed impossible by rest of the world. In the last five years, China has developed dramatically in all sectors under the leadership of President Xi Jinping. He has made China an economic powerhouse, fostered great social values, improved infrastructure, focused on environment, renovation of scenic areas, planned urbanization, agricultural revolution, huge investments especially in projects like the Belt and Road Initiative (BRI), developed stable diplomatic relationships with other countries, promoted education sector, healthcare, and many other fields. Moreover, Xi has also given China new Five-Year Plan which is a continuation of his last Five Year Plan.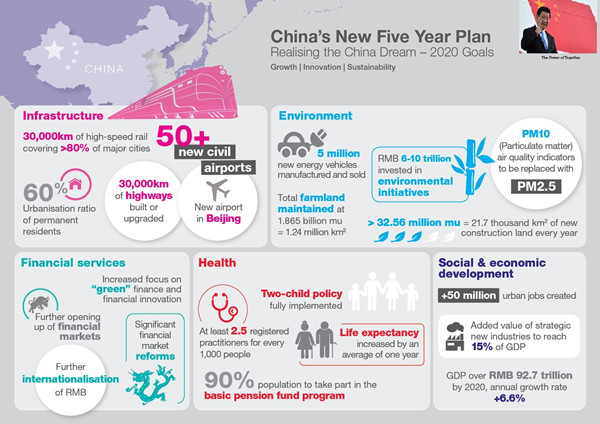 China's Five-Year Plan [Picture provided to chinadaily.com.cn]
This article aims to provide a detailed analysis of prominent sectors targeted by the plan.
Financial services
This plan recognizes that there is still room for further growth and progress of China's financial services sector. The plan tackles the dual objectives of financial modification and sustaining financial constancy.
Healthcare
China's growing middle class is developing fast and is seeking improved quality health and elderly care services. Admitting that the government alone cannot fulfill the cumulative health and elderly care demands of its citizens, the plan supports the idea of "Healthy China" by encouraging the contribution of the private sector in the formation of an incorporated health and elderly care system.
Infrastructure
It has been the most salient sector in China's recent development and a huge investment has been carried out in this area. In line with the Belt and Road Initiative (BRI), developing urbanization and infrastructure remains a high investment priority with plans to synchronize regional development and road, rail and port infrastructure to tie the country together. The initiative also highlights focus on advanced infrastructure and green expansion.
Agricultural revolution
The plan for agriculture constructs on the preceding theme of revolutionizing the Chinese agricultural sector. It restates the purpose to streamline China's agricultural policies and announce upgraded technology innovation and active agricultural socialization service systems.
Internet Plus, Mass Communication & information technology
The government has pushed for mounting new industries based on the e-commerce and Internet. This plan seeks the incorporation of the internet with traditional sectors of the economy and endorses Internet-based modernizations.
Environment
This plan underlines a cleaner and greener economy, with a strong pledge to environmental management and safety, clean energy and emissions controls, environmental protection and security and the development of green industries.
Being a foreigner, I strongly support and appreciate China's last Five-Year plan and the new Five-Year Plan will be a harbinger of success, prosperity, innovation, creativity and the next economic superpower. The rest of the world should learn from China's last Five-Year Plan, especially the government's flexible policies, which should be considered as a benchmark.
Khurram Hussain Raza is an international student at Nanjing University of Science and Technology.