Growing mountain of express delivery packaging needs reducing and reusing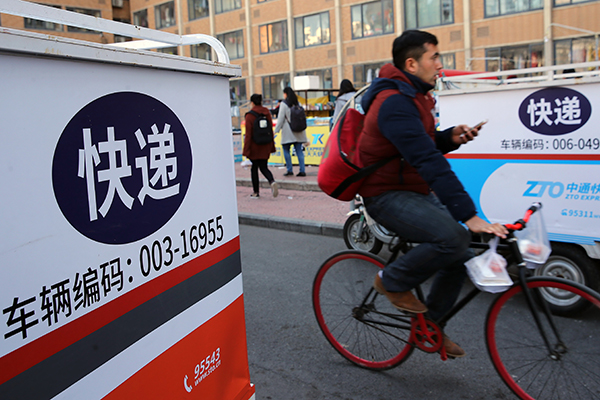 Express-delivery tricycles with eight-digit registration numbers are seen in Beijing on Dec 2, 2016. [Photo/China Daily]
THE TOTAL VOLUME of China's express delivery industry has been the largest in the world for three consecutive years, and it has contributed 40 percent of the growth in the global express delivery business, the State Post Bureau said on Monday. Legal Daily comments:
The revenue of China's express delivery industry has grown 2.7 fold over the past five years. That rosy figure means China handles 100 million express deliveries every day on average throughout a year. However, these packages pose a serious environmental threat, as statistics show less than 10 percent of the packing materials are collected and recycled. Most of the packaging ends up as landfill.
According to the China National Resources Recycling Association, even if the packaging was collected, it would require huge amounts of energy to process the materials for recycling.
The government should provide the express delivery companies with subsidies to encourage them to collect the plastic bags and cardboard boxes for reuse.
There could also be incentives, funded by the government, social organizations and enterprises, to encourage the couriers to collect the packaging for reuse.
Or the government can use administrative means to make the express delivery packaging, which is mostly free now, more expensive, to make sure the charge is sufficient to cover the expenses and environmental costs it incurs to deal with the waste.
Local governments should also explore ways to raise the awareness of consumers of the need to reduce the use of the packaging materials in the express delivery industry.