People-first development will remain the priority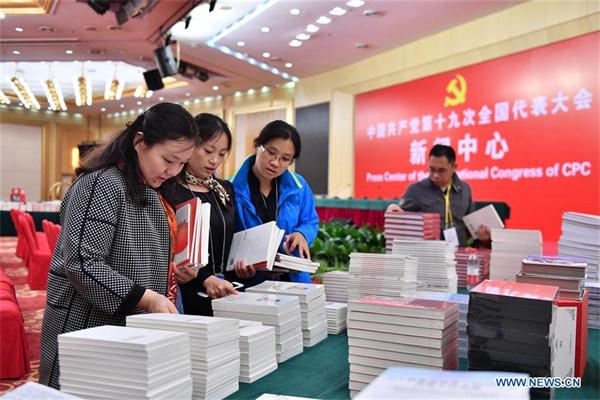 Journalists take books and materials in the press conference hall of the Press Center of the 19th National Congress of the Communist Party of China in Beijing, capital of China, Oct. 11, 2017. The press center based in the Beijing Media Center Hotel began operations on Wednesday. (Xinhua/Li Xin)
"Our people look forward to better education, a more stable job, a more satisfactory income… and expect their children to grow up, work and live better," Xi Jinping said in his first news conference after he was elected general secretary of the Communist Party of China Central Committee in November 2012.
Such plain and down-to-earth words set the priorities for China's development over the past five years, and the policy measures rolled out since then have time and again proved that the Party under Xi's leadership has remained steadfast in its pursuit of a better life for the people. This as he said "is the goal of our struggle", and he and the Party have shouldered the responsibility to lead the Chinese people in overcoming the difficulties they encounter on the road to common prosperity.
What has been achieved in that struggle and the progress made in advancing along that road over the last five years will be highlighted at the upcoming 19th National Congress of the CPC, where Xi will also outline the tasks and priorities for the country's endeavors over the next five years.
The precedence given to improving people's livelihoods is reflected in the fact that despite China's slower growth in recent years, the top leadership has consistently made job creation a key task, as shown by the creation of more than 13 million new jobs for urban residents annually and its success in keeping the urban jobless rate below 4 percent.
This has by no means been an easy task for the world's most populous country, particularly at a time when the country has been going all out to promote economic and structural adjustments and reduce overcapacity.
The people-first approach is also evidenced in the long list of achievements that have been made in poverty alleviation. The impoverished population in rural areas has been reduced by 13 million a year from 2013 to 2016, which, together with the top leadership's ambitious, but attainable, goal of pulling all residents out of poverty by 2020, will create a notable poverty alleviation achievement.
Without a people-oriented development philosophy and targeted policy measures, the completion of such a seemingly impossible task would be out of the question.
That no one in the country remains living in poverty will also be the fulfillment of Xi's vow to ensure that "no single person is left behind on our road to building a moderately prosperous society".
Fruitful employment creation and effective poverty alleviation efforts, along with healthcare reforms and the rolling out of government-subsidized housing nationwide as part of the effort to implement the top leadership's philosophy that "housing is for habitation, not for speculation", uphold Xi's words that development should be for the people and its fruits should be shared by all.