Home away from home in China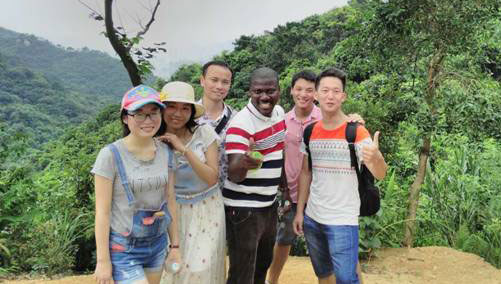 I've lived in China for close to 10 years and I get asked quite often by family and friends — mostly skeptics — why I have been here for such a long time. I tell them there are a plethora of reasons why I choose to stay in China, one of the world's oldest civilizations. It wasn't love at first sight, but over time that love has blossomed into something beautiful. I can now confidently say China is my second home.
I tell them I fell in love with the land, the people, the culture, the achievements, the blunders, and everything else that makes the country unique.
The language, one of the most distinctive in the world, is often perceived to be the most difficult. Oh yes, it was difficult at the start. I remember calling my mom to tell her I quit language school. It was tough, so I had to devise a way to improve my proficiency. I took the approach most recommend — mingling with the people and using some basic strategies captured in a five-point post (5 Easy tricks to learning Chinese) on China Daily Website. It's a sure-fire method; I sailed through and can now boldly get around without resorting to pocket translators and dictionaries.
I'm lucky to say I have travelled to a host of provinces, hiked across hills and valleys, been on acres of farmland, and even seen breathtaking views from side windows on high-speed trains that leave one wondering at the size and magnitude of China. It is a huge country with magnificent landscapes. I was once with a group of locals and foreigners tracing the route of the historical Long March in Ruijin county, a small farming community in East China's Jiangxi province. It was there I got an up-close look at the zeal and resilience of the Chinese nation.
As far as the culture and history, it would be redundant to count the number of times I've celebrated the festivals on the Chinese Lunar calendar- Spring, Lantern, Dragon Boat, Mid-Autumn, Tomb Sweeping and others I can't keep tabs on. I've grown to understand many aspects of Chinese society, all of which combine into the 5,000-year history known to man today.
Achievements old and new — from the compass, paper making and gunpowder to breakthroughs in high speed trains and the world's fastest super computer — and a host of other modern achievements I have observed during my stay in China. One wonders, what's next?
Food scandals, corruption — the fall of "flies and tigers" — air pollution and development at the peril of the masses, are all blunders I have seen. But I have also witnessed firsthand measures being taken to ameliorate the situation. Innovative ideas such as car-pooling, car-sharing, car-hailing, bicycle-sharing, new and clean energy technologies and the relocation of heavy polluting industries in densely populated areas have been adopted on an unprecedented scale in China.
Getting involved with my immediate community is something I do everywhere I stay; I'm currently a member of a football club in Qianjiang city in Central China's Hubei province. We often engage other teams in competition, and our opponents delight in the idea of playing against a foreigner. Hilarious to say, my teammates and our opponents take a 'smoke break' during halftime instead cooling down with some water.
If there's one thing I'm really dissatisfied about here in China, it is the smoking culture and the blatant disrespect for non-smokers. Personally I have nothing against people who smoke. If one chooses to smoke despite all the calls and awareness against the habit, that is their choice and I respect that. But the disregard and lack of concern for the privacy of non-smokers in China is appalling. Punitive measures put in place to address this problem aren't yielding the expected result, as the law seems to be on a respite after the initial uproar. I try as much as possible to avoid second-hand-smoke. Following the example of Baidu, I think all corporate offices should make their workplaces 100 percent smoke-free.
The journey so far has been smooth despite the annual visa renewal. It has become something of a ritual. Who knows, hopefully the law will someday take a turn from the yearly working visa to a period of two or more years. Till then I remain, on the balance, resolute in my support for China.