My perceptions of China's development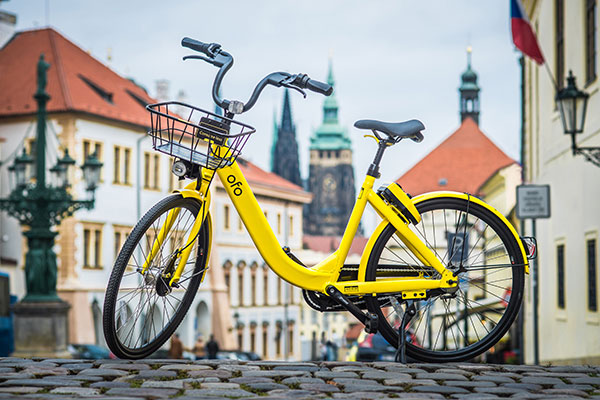 Chinese bike-sharing company Ofo Inc announced its official launch in four European countries — the Czech Republic, Italy, Russia and the Netherlands — as the company ramps up efforts to expand its booming cycle empire globally.[Photo provided to chinadaily.com.cn]
The first time I came to China, obviously, I was astonished by how different my country was compared to it. The subway system caught my attention since it was something that my country does not have. I have always thought that a country's transportation system reflects its wealth. If a country runs a bullet train, it definitely means such a country is developed and can afford to provide its people with a comfortable living. Furthermore, I noticed that even though bikes have been overpowered by cars and trains, Chinese bike companies managed to catch up with the trend. Aside from electric bikes, China now has upgraded its normal bicycle ride into a shared bike system, where bicycles can be used by the public anywhere and anytime they want. These shared bikes are borrowed and paid for by the user through Alipay, China's leading third-party online payment platform, owned by Alibaba Group and its founder, Jack Ma. Jack Ma has become an international business figure, one who has to be considered as China's pride. Jack Ma, himself, would represent how wealthy China has turned out to be. And as we all know, China has now become an economic powerhouse due to its booming industrial superpower.
A Communist country, China has transitioned itself into a more globally competitive and free market. Even five years ago, China sought the limelight on the global stage. Evidence of this is the unveiling of the most ambitious Chinese initiative, the Belt and Road. If realized, it could be the most defining moment in world history that can make China greater than it is today. Going back to what has been said earlier, the country's transport network would indicate the country's expanding economic growth. The Belt and Road Initiative, thus, envisions a transport network that would connect almost every part of the world to create more robust trade and development. China's economic miracle is now a leading example for most developing countries. Its architectural, infrastructure and technological advancement is going non-stop.
Fast urbanization in many different cities also has become a trademark. For instance, I heard a lot of stories from former students in Wuhan and they said that five years ago, Wuhan was not as developed as it is now. They also cited the emergence of subway trains and many commercial buildings that once did not exist. Many former students would say that a certain road or building project could be completed in only a few months. That's how fast China works, and apparently, that is why it is now an industrial superpower, contributing so much to its economic growth.
The changes that occurred in China's economy have led to changes in Chinese society and way of life as well. The communities are now fewer and farther between and serve as tourist destinations rather than examples of a typical Chinese way of life. A new status-aware upper middle class has emerged and huge emphasis is being put on prestige and appearance. People desire exclusivity: expensive cars, nice apartments, designer clothes, and membership at private golf clubs. Due to China's national interest of improving its international image, it has now become more Westernized than I thought. Aside from that, China has also attracted many international students, like me, to experience Chinese culture and society. It is as if China not only opened its economic doors, but also sought to introduce its culture to the world and in return, China embraced different races into its own gates.
The effort of the Chinese government when it comes to international education has been seen through the years. From my perspective as an international student, I have seen the openness of the local Chinese people toward foreigners that in the past had been a strange concept to them. While foreign students here have begun learning Chinese, there is also a significant change in the way Chinese people appreciate other languages. More specifically, Chinese people are now more interested in learning English. In a 2010 report by The Guardian, a rising demand for English classes was reported. The English teaching market has nearly doubled its size in the last five years and is now worth around $3 billion. Affluent parents are not hesitant to pay a fortune for their kids' English education. On the other hand, the English teaching business has attracted many native speakers to come to China and work. Indeed, Chinese cities are becoming a melting pot because of the booming industrialization that attracts foreign investments and the English education among Chinese, which allows foreign English speakers to experience life in China.
If one must think about the changes that happened in China, economy is the first thing that comes to mind. But what transpires after that should be the focal points of discussion. The effects of such economic outburst can be seen in the socio-cultural changes surrounding the Chinese way of life. Moreover, China's decision to open its doors to the world is a point of no return. But China is unique on its own. Although China's economic growth has brought dramatic changes in the lives of its people, the culture and society as a whole, their traditions and cultural symbols were kept in place.