Tsai's harmful prevarication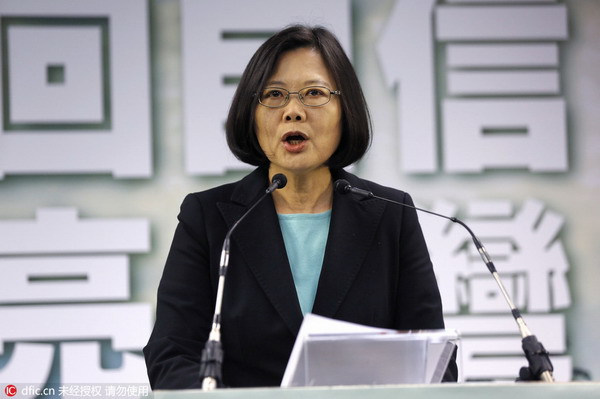 Taiwan's main opposition Democratic Progressive Party, DPP, Chairperson Tsai Ing-wen speaks during a press conference in Taipei, Taiwan, April 15, 2015. [Photo/IC]
Even before she delivered her speech to mark the "national day of the Republic of China" on Tuesday, it was not difficult to predict what approach Tsai Ing-wen, the leader of the "independence" advocating administration on the island, would take with regard to cross-Straits relations.
It was thus no surprise that she continued to play her word games, saying Taiwan offered its greatest goodwill to the mainland, and carried on beating about the bush by calling for the continuation of contacts and talks between the island and the mainland, and the setting aside of political differences.
She knows as well as anyone that there is no hope of any breakthrough in cross-Straits relations unless her government explicitly upholds the 1992 Consensus, which requires both sides recognize that there is only one China.
Tsai has refused to acknowledge the one-China principle since taking office. But, at the same time, she is well aware that expressing her will to secede the island from China would be disastrous. Instead, she has prevaricated on cross-Straits relations, and continues to do so.
The mainland will not concede an inch on the one-China principle. Tsai should give up any delusions she might have to the contrary.
It is in the interests of people on both sides of the Straits for Tsai to develop good relations with the mainland by recognizing the one-China principle. Her stubbornness in refusing to do so will only lead to the further deterioration of relations, and betrays that she is putting her own pretensions before the well-being of the residents on the island.