Want to launch a global career? Go to China!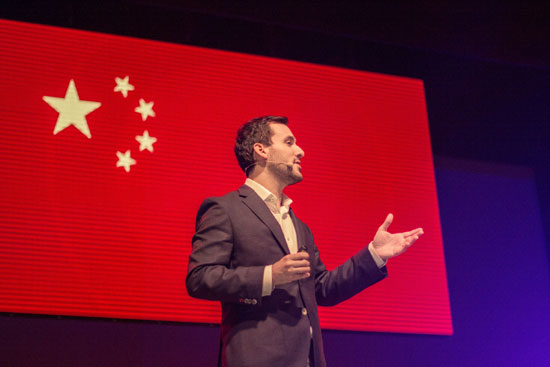 Nicolas Santo talks about his journey from Uruguay to Foshan to live his China dream during TEDx early this year. He was the first to lead the international team at Foshan government's Investment Promotion Agency. [Photo provided to chinadaily.com.cn]
Last Thursday, as my plane was about to take off, I realized that day I had breakfast in New York, lunch in Washington D.C. and dinner in Miami. What's more, I travelled by car, train, bike and plane in less than 12 hours. Throughout this hectic roadshow, however, there was a unifying, underlying factor: China. I was traveling all these miles because I was pursuing my Chinese dream. And I was doing so in meetings with old mentors, influential Latin American journalists, and officials from a leading development bank. These days, when many young professionals dream about creating a global career for themselves, my personal experience has taught me that there is simply no better country to launch such a career than China.
In the 21st century, on the way to the top, no matter your career choice, if you are a lawyer, an engineer, a pilot or a football player, sooner or later, you will cross paths with China. You are going to have to understand it. True, China will always require you to run the extra mile. But sooner or later, China will recognize your effort. This is not something that a friend of a friend told me, or that was sold to me as a cheap jingle. I have experienced this myself, but have also seen others experience it.
I recently read a LinkedIn post by Florian Bohnert, head of global partnerships at Mobike. Bohnert is the first foreigner to have worked for this successful bike-sharing startup, and his is a perfect example of how China can positively impact your life. In his piece, Florian said:
"A restless and relentless mindset has enabled Mobike to grow from just a handful of bikes in April 2016 to over a million bikes in operation across China, supporting more than 200 million rides along the way. It has taken us just 10 months to reach this point," he said. "Leaving your phone unchecked for two days may sound like a good idea from time to time – less so when you come back to a hefty 2000-plus messages. But hey, this is my life now! And I wouldn't change it for the world."
We should all take note of Florian's words. The adrenaline rush that China can make you feel is difficult to match.
Every other day or so, I get emails from young people thinking of coming to China to work or study. I always tell them 3 things:
1. If you come to China, your cultural intelligence will go through the roof. According to Christopher Earley and Elaine Mosakowsk, cultural intelligence is "the ability to make sense of unfamiliar contexts and then blend in." Today more than ever before, a highly developed cultural intelligence is vital for success. If Gideon Rachman is right and we are in the midst of an "Easternization" process — and I think he is — living in China will help you become a multicultural professional, ready to face some of the most important challenges of our era.
2. Don't underestimate your capacity to build a career based on a specific location. Harvard professor William Kirby usually says "China is a series of interlocking regional economies, with populations the size of European nations, or larger." Take advantage of the fact that China is a gigantic country. Unbelievably, to many foreign business leaders, China is still limited to Beijing and Shanghai. Choose a second-tier city and build your fortress over there. "Second-tier city" does not mean "second-rate city". I guarantee you this will pay both in the short and long run.
3. Pick your opportunities wisely. China is changing rapidly, and thousands of opportunities are emerging out of this incredible, ongoing transformation. Going after all of them at once can be tempting, but be careful, because this could mean you finish empty-handed. Pick the China opportunities you want to pursue wisely, and stick to them. Stories like the one of Raz Galor, the Israeli who launched an online production house that became immensely popular in China, prove that if you pick your sector wisely, success could be knocking on your door sooner than you think.
The author is an entrepreneur from Uruguay and the former head of the international department of the Foshan Bureau of Commerce.