My Journey in China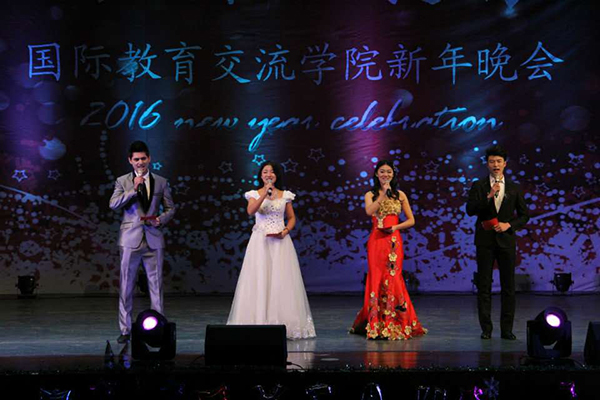 Muhammad Ali Akbar co-hosts the 2016 New year celebration gala at University of Jinan, Shandong Province, China.[Photo provided to chinadaily.com.cn]
A journey starts with an inspiration and inspiration for me is my elder brother, Dr. Muhammad Shahbaz. He is my mentor and he started telling me stories of China since he arrived in China in 2006. I was a middle school student at that time and my curiosity increased with each story he told me. The years passed and after I completed my college studies, my brother recommended I come to China and study the Chinese language. I was admitted to the Shandong Normal University in 2013 and I started my studies in October 2013. I still remember that once I landed in Beijing on Oct 3, it was the time of the National Day holiday and I could not wait to join the Chinese language classes. In the second week after my arrival in China I started to go to university and learn Chinese characters. My love for Chinese culture was increased many times once I was introduced to calligraphy, Chinese literature, martial arts, tea culture and Chinese economy. Seeing the boom of Chinese economy in these years, I was more interested in studying international trade and I was admitted on scholarship to the University of Jinan in September 2014.
Learning the Chinese language with characters gave me a strong foundation for my bachelor's degree program. During this time I enjoyed writing complex Chinese characters and I was invited as a team leader to Confucius' hometown to see the culture and learn about Confucius' history. Wearing traditional Confucius gowns in different colors and writing the Chinese characters was an unforgettable experience. I also took part in a TV competition for Chinese culture and answered three questions and came in third out of six people participating in the competition.
In the coming years I started to participate in the annual university programs and cultural shows as host. My first such appearance came in 2015, when I was to host the ceremony at the Grand Cultural Festival Show at the University of Jinan. Seeing my performance, the Shandong University College of International Education invited me to host their annual Freshmen Cultural Festival Show that same year. Shandong University's administration also invited my teachers from the University of Jinan and it was surprising to see my teacher from Shandong Normal University at the show. In the same evening I, along with our team (Muhammad Ijaz, Haroon Ali, Sarim and Aqeel), performed the Pakistani cultural Bhangra dance, which was a super hit, and we were invited by the University of Jinan to perform. It was an amazing opportunity to exchange the culture of Pakistan and experience Chinese culture as the host of the shows.
I still remember my first Chinese Spring Festival in China in February 2014. I was invited to share the celebration with a Chinese family in a small county near Zhangqiu. I arrived in the county and almost all the county people knew that there was a foreigner in town. I was welcomed like a prince and offered a big green coat to avoid the cold. As the temperature fell down at night, the hosts used the coal fire to warm the room and next day cooked a special samosa type recipe for me. I also went for skiing with my brother in the hilly areas of Jinan which was a memorable experience. The very same year after the spring festival I and my brother attended the Chinese wedding. It was first time for me to attend a wedding and it proved to be lucky for me as when the bride threw the bouquet of flowers above her head, I being the tallest among the crowd caught the bouquet well above from other persons in the air. It was the most beautiful moment of my life.
In 2015 I and my brother took part in two other wedding ceremonies and where I was first given the opportunity to be the best man. It provided me the opportunity to see Chinese wedding culture more closely. The bride hides her shoes and the bridegroom has to find them. It's almost same in Pakistan but the opposite. Another resemblance is the firecrackers celebration just before the bridegroom's procession arrives at the bride's home. Another custom is when we arrived at the bride's house, we were welcomed by the bride's friends, they haggled with us and let the groom perform stunts or tricks, and not "surrender" until they were satisfied with red packets of money.
The next year I was promoted to be the host of a wedding ceremony. It was an unforgettable experience and it boosted my confidence and let me learn a lot. Walking in the footsteps of my elder brother, I have learned to progress and make my way to success. The participation in IECO (International Education Charity Organization) was an important achievement, where I not only participated in different programs as a teacher but also learned a lot of fundamental knowledge about the Chinese education system.
I have been also involved in the China Pakistan Economic corridor as a translator. And I am hopeful that the Corridor will strengthen the friendship between China and Pakistan. In the years to come I will try my best to be an ambassador of friendship between China and Pakistan.
Muhammad Ali Akbar is a Bachelor's degree student in international trade and business at the University of Jinan, Jinan, on a University Presidential Scholarship.