The life of an oncologist in China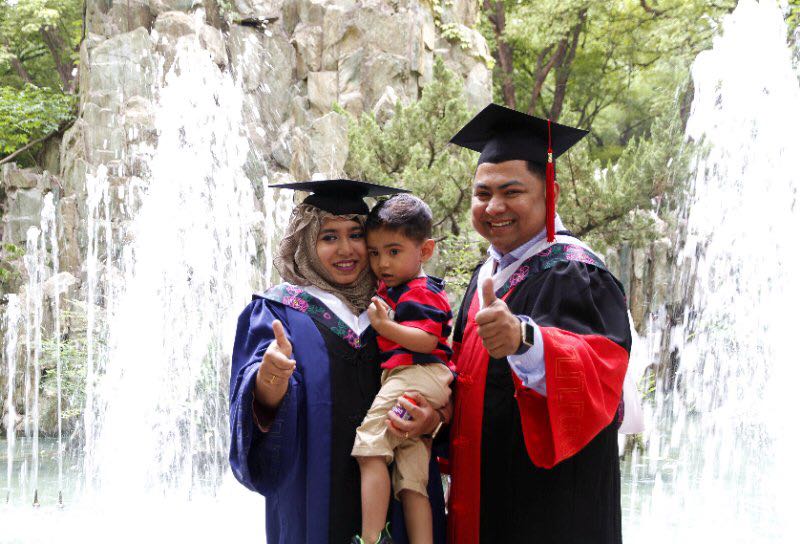 Dr Effat UnNesa (Left) poses with her husband and son. [Photo provided to chinadaily.com.cn]
The life of an oncologist is special among doctors of other specialties, and being a female doctor makes this more unique. The treatment of the patient diagnosed with cancer is quite challenging. After my MBBS (bachelor of medicine and bachelor of surgery) from Bangladesh, I chose to come to China for specialization. The choice of specialty was a challenge for me. During my internship I used to see the suffering of the cancer patients and their pain. I decided that I would be an oncologist to treat the patient who suffers from cancer. When it comes to cancer, people are afraid of the word, and once somebody is diagnosed with cancer, he or she suffers psychologically more than physically. Treatment for cancer is complex, and managing all of the different aspects of treatment can be stressful. There are different doctors to consult, many tests to schedule, and instructions relating to your care to understand.
After I chose my specialty, I was very excited to be given the opportunity to work and study under the supervision of Professor Cheng Yufeng. He is one of the top radiation oncologists not only in Qilu hospital but also in China. Professor Cheng guided me on how to treat cancer patients and how to manage the pain and suffering of the patients, as well as their families. Moreover, he also taught me how care for the patient must be considered within the context of the psychological, physical, and social experiences of a person's life.
The life of an oncologist looks so nice but the secret life of an oncologist is full of witnessing the most painful and intimate moments of life. For most of our patients the actual diagnosis of cancer has been given to them in another ward, and when they come to us they are pleased there are still options that can prolong their lives, even if we cannot cure their illness. In the radiation oncology ward, we receive patients, who either come to our ward after surgery or while they are undergoing chemotherapy. The combination of chemotherapy and radiation therapy kills more cancer cells but it might have more side effects as well. My professor also told me that oncology is very much a team effort, with everybody working together.
I have witnessed a number of patients diagnosed with cancer, some at an early stage and some at a late stage of cancer. It is always an honor and noble cause to treat them and to give them hope. I will never forget the story of a 12-year-old girl came to our ward for the radiation therapy. She was a student and was diagnosed with a brain tumor (astrocytoma) and had to be admitted to the hospital to undergo radiation therapy. She came from a suburban county in Jinan and had never seen a foreigner in her life. She was so excited to see me when our routine early morning rounds were going on. She asked me my name and shook hands with me. I taught her some simple English and she started calling me Jiejie. Every time during her treatment session, she was pleased to see me and I held her hand and smiled. About three weeks later on the day of her discharge, I went to the ward, where she was hiding something and asked me to close my eyes. I closed my eyes and she put something into my hand and asked me to open my eyes. I could see a drawing on a paper, with two people on it. Something was written in Chinese. She told me in Chinese, zhegeshiwo (this is me) and zhegeshini (this is you, Jiejie). There were tears of happiness in my eyes and also happiness that her treatment was finished and she was being discharged from the hospital. I hugged her to say a warm goodbye.
After my hospital hours, I also take care of my son, who is 3 years old and goes to a local kindergarten. It is always a tough job to take care of him. But I am always happy to see him after long nine hours, when I go to pick him up from his kindergarten. All my tiredness goes away when my son speaks some words of Chinese in a pure Mandarin accent, which even I cannot pronounce, and his Chinese language efficiency is getting better than his mother tongue (Bengali).
My husband, Dr. Misbahul Ferdous, got his doctorate degree from Shandong University this year. My son and my husband are inspirations for me. I am very much delighted that my son can learn Chinese and can fulfill our dreams of not only speaking Chinese, but also writing it. I am hopeful that one day Taihan will enlighten the name of Bangladesh and our family will return to Bangladesh and prove to be ambassadors of friendship between China and Bangladesh forever.
Effat Un Nesa is a PhD student on radiation oncology at Qilu Hospital affiliated to Shandong University Cheeloo College of Medicine, on a CSC Scholarship.